3rd March 2014
Freddie's Story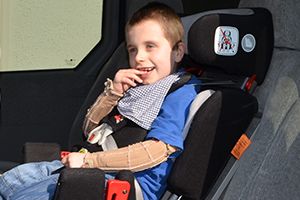 He goes by car to a special school where the whole school team is dedicated to helping him improve. Thanks to their support and patience, Freddie has learned to take a few steps.
The car seat, in which Freddie is driven to school, had become too small for him. It was also worn out and was no longer safe. Without a new seat, there would be no car journeys, no school and Freddie would probably not continue to make the progress he had shown.
Variety agreed to provide the money for a custom built 'Freddie seat'. It arrived just after he had major hip surgery. It meant he could travel home in safety and comfort and look forward to getting back to school.
Most of us think nothing of a car journey; we often moan about it. Freddie has a different view:
"My new seat is so comfortable and safe. It lifts me up very high and I can now look out of the window as we are driving along. It makes me feel like a king."
Watch the Video