17th May 2016
Ben's Story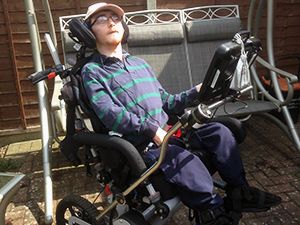 Ben has a fascination with the Metropolitan Police. One of his proudest moments was meeting the Police Commissioner when his dad received his long service award from the Met.
Ben's other interests include history documentaries and he uses computer technology, via head switches, to access school work and his communication aid.
The powered wheelchair is very heavy so Ben also has a lighter manual wheelchair which Variety provided in 2008. Unsurprisingly he has now grown out of this. It needed a new, specially adapted seat which would give him the correct posture support that was essential after a series of operations including one for spinal correction.
It is the lighter manual wheelchair that enables Ben to join in family activities outside the home. After Variety provided the new seat he is able to enjoy trips out with the family again.
Ben's family said:
"A big thank you Variety for making Ben's wheelchair really comfortable again."