16th November 2023
Aurora Enjoys Safer Nights in New Variety-Funded Specialist Bed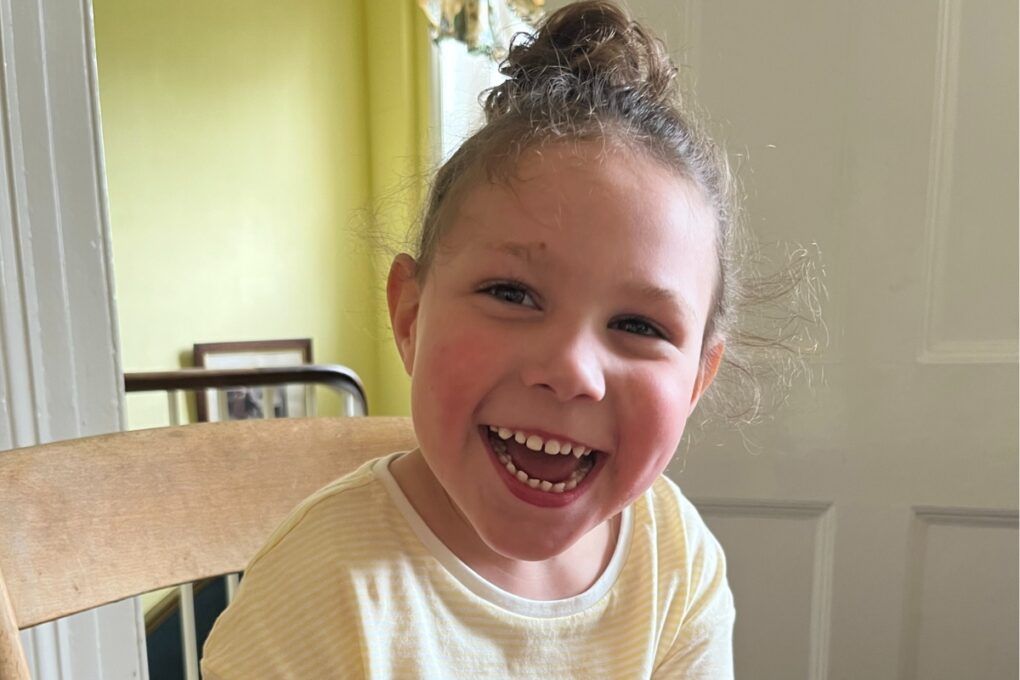 Aurora lives with her mum, her dad, her aunt, and her baby sister, Ophelia. Aurora loves playing on the swing, trampolining, and playing in water. She loves to interact with other people and big gestures and silly faces are her favourite things. As a giggly young girl who has her share of temper tantrums, she keeps her family on their toes.
Aurora starting reception at a SEND school in September and she is thriving. She recognises the building and gets excited to go every day, even objecting when it's time to leave!
Due to two severe perinatal strokes during pregnancy, Aurora has Quadriplegic Cerebral Palsy, meaning that each of her limbs are weakened. She is just learning to sit on her own, but she is unable to stand or walk, and she is non-verbal. That doesn't stop Aurora from making herself known! Mum, Cressida, said:
She's non-verbal but there's lots of shrieking and giggling, and she does this thing to get attention where she screams and then laughs. You notice her in a room. She definitely makes herself known.
The most challenging thing for Aurora's family is her epilepsy, which leaves her caregivers on high alert as they must constantly keep an eye on her and watch out for seizures. Aurora's family first grew concerned when they realised she was not reaching the usual infant milestones. After being rushed in for tests at three-months-old, Aurora was diagnosed after a brain scan quickly revealed her condition.
While the family did not have to fight for a diagnosis, they have since been denied the help they need not only for Aurora, but also for themselves.
Cressida said:
We were told quite horrific news, and then left on our own for quite a lot. It's been very hard to fight and navigate, especially as we're grieving after having some awful news. We definitely struggled to access the right things. We just felt that there was a huge opportunity for early development that was just completely shut down that we've always had trouble with.
Many families struggle to access the right resources, equipment for their children, and mental health support for themselves. This has, unfortunately, been the case for Aurora's family, who were also forced to navigate COVID-19 lockdowns shortly after receiving the diagnosis.
Forced to come to terms with a new diagnosis for their infant daughter, as well as navigating the new realities of isolation caused by the pandemic, Cressida struggled with depression and anxiety. She said:
It makes me feel just so rubbish that she's suffering because I'm not able to either afford or organise the stuff she needs and that's just a horrible feeling of failure on top of everything else. You just spend your time on the internet constantly comparing what other people are getting, and it's a battle not to constantly do that.

I think when you're tired and you're depressed, you just can't get the energy to do all the stuff that needs doing, and then you layer on the guilt as well: you feel completely useless on top of already grieving and struggling. It's like the extra hard gets put on top of the already hard anyway.
Cressida could logically tell herself that she wasn't failing as a parent, but she was constantly forced to face the lack of support, coupled with the high cost of the equipment her daughter needed, and the fact that no one would carry out an assessment on their house. Despite her best efforts, accessibility has been a constant issue, with very little support available to help.
With her husband working abroad a lot of the time, Cressida found that she needed more help at home, which led to her sister moving in with the family. Thankfully, she provided a much-needed support for Cressida. Cressida has found that the specialist bed has helped alleviate a significant source of stress and anxiety.
Cressida came to Variety, the Children's Charity for help funding a safety sleeper bed for Aurora. As Aurora often bangs her head and self-harms in the night, it was becoming increasingly important for her to have a safe space to sleep at night. Cressida has also suffered from a slipped disc in her spine from lifting Aurora in and out of her cot.
The new bed with hospital settings has been a much-needed lifeline for the family, particularly as they have to constantly monitor Aurora for epileptic seizures. Cressida said:
In her baby cot, Aurora was getting her limbs stuck and hitting her head. I was trying to put bumpers and things round but that was moveable and difficult. That was a huge appeal of the bed because it has special padding, so it's a kind of safe space to be able to put her. And we can use it for changing her as well because it's got hospital settings so it can go really high so I'm not having to bend down in a really difficult way with a slipped disc in my back.

It's not completely solved everything, but it's definitely a step in the right direction. She's got some more space and I can see her through the side, which is really reassuring because I don't always have to go up to her and upset her when I'm monitoring her through the night. It's been amazing.

I also felt really proud of myself for having got it. Just having something that I managed to sort with your help was just a really nice, positive, proud feeling that's quite hard to come by.