13th August 2013
Alissa's Story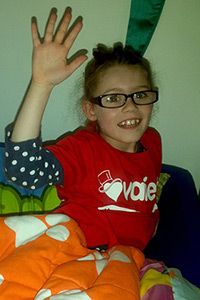 It takes her a long time to settle at night and her obsessive bedtime routine is getting so out of hand that she will no longer stay over with her grandparents. She struggles to get to sleep, has nightmares, sleepwalks and is in and out of her bed all night.
Dysautonomia means that Alissa's nerve endings do not function properly and, as a consequence, she gets freezing cold at bedtime, needing a hot-water bottle in both summer and winter.
Despite this, she still wakes up feeling cold at least 10 times a night and has to find her parents. Alissa's paediatrician recommended a weighted, heated blanket to give her warmth, comfort and security at night.
Variety agreed to fund two Climagel Weighted Blankets (one current size and another the next size up) on the recommendation of Professor Price, Variety's Medical Advisor. Alissa received her blankets at the end of November and she loves them – the colour, the paw prints and, most importantly, the warmth she feels when they come out of the tumble dryer.
Her sleep pattern is slowly improving with help from the blanket and the clinical psychologist. She is trying very hard to deal with her fears and to stay in her room and bed.