14th May 2012
Young Variety Hosts First Big Quiz Of 2012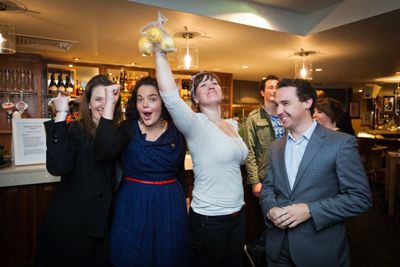 Young Variety held it's first Big Quiz of 2012 at Pitcher and Piano, Cornhill, London on Tuesday 17th April. The event was a great success with over 100 attendees and resulted in a fantastic final fundraising total!
Board games and children's toys were auctioned during the evening and the raffle raised a significant portion of the fundraising total – thank you to everyone who supported this, both through buying tickets on the night and also donating prizes!
The winning quiz team received a generous £100 bar tab for food and drinks from our friends at Pitcher and Piano, with the second place gaining paintball vouchers for a group of 10 and of course, the plucky losing team received the obligatory lemons!
The evening raised close to £1,000 which is being donated to the Variety Children's Hospital at Kings College Hospital, London, to fund a 12 month Play Team who provide evening and weekend service to the paediatric wards and emergency department.
The money will be spent on purchasing board games, art materials and other activities to entertain more than 64 children a week who visit the hospital for a variety of reasons and to make their experience a little easier.