16th February 2017
Young Ambassador Award and New Wheelchair for Liverpool Boy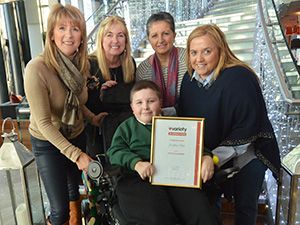 On Monday 13th February 2017, 10-year old Liverpool boy Jonathan was made a Variety Young Ambassador and at the same time received a new special all-terrain wheelchair.
Jonathan was born with charcot–marie-tooth syndrome, a progressive disease which damages the peripheral nerves and makes Jonathan completely wheelchair bound. The funds for Jonathan's wheelchair were raised at a glittering charity ball in aid of Radio City Cash For Kids on the 15th October 2016 at Thornton Hall Hotel on the Wirral.
The presentation took place at the Liverpool Hilton Hotel and Jonathan was surprised when the three ladies who provided the funds for his wheelchair: Mandy Molby, Claire Gallagher and Trudi Brookes all turned up to make his day extra special.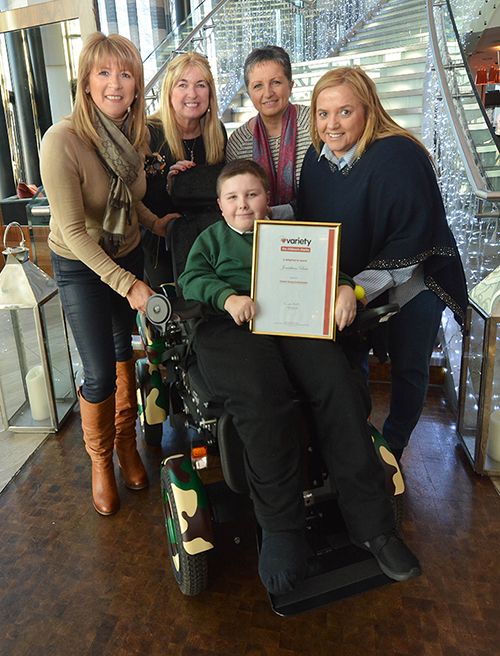 Mandy, Claire and Trudi said:
We are thrilled to be supporting this wonderful charity and we are even more thrilled to meet Jonathon, and to see just how much the wheelchair has improved Jonathon's life.
Suzanne, Jonathan's Mother said:
This new all terrain wheelchair has changed Jonathan's life. As a family we can go everywhere together now, even to the seaside which was out of bounds before. We cannot thank Variety and the sponsors enough for all they have done to make this happen for us.