15th September 2016
Wheelchair Basketball Superstar Competes in Rio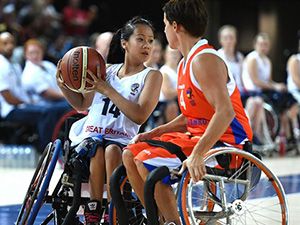 Sports wheelchairs have been funded by Variety for many years because we want to encourage young people with disabilities to reach their full sporting potential.
So when 17 year old wheelchair recipient Joy Haizelden topped her rapid rise to basketball fame by being invited to join ParalympicsGB at the Rio Games we were absolutely thrilled for her. Joy, from Coventry Wheelchair Basketball Academy made her senior debut in the 2014 Women's World Wheelchair Basketball Championships, helping the team to their highest ever championships finish.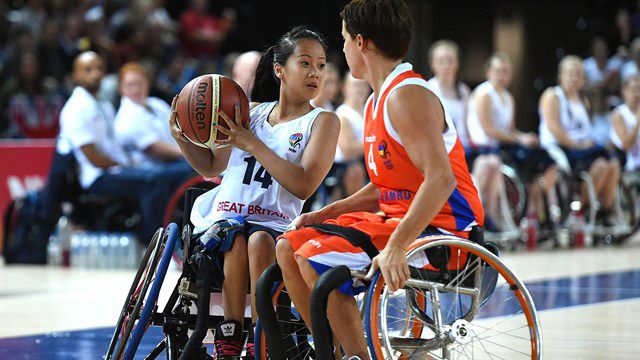 In 2015 she achieved great success for Great Britain in the European Championships and was part of the team which was crowned Women's Under 25 Champions in Beijing.
Joy says about her first Olympics:
"I'm feeling nervous and excited at the same time! Thank you to Variety for both my Elite Basketball Wheelchair and my manual daytime Titanium Max Lite Wheelchair which is so lightweight; it has really helped me to get around much more easily."
Father Jim says:
"Joy having to move away from home to centralised training in Worcester and the hard work she has put in, training every morning before college as well as regular trips to the gym has come at quite a cost. She hadn't even started playing Wheelchair Basketball during the last Olympics in 2012 so it's amazing how much she has achieved in such a short time.

We are so proud we are of her; a huge thank you to Variety for all their support and encouragement. The help with funding for the wheelchairs has been great. Other things like the Children of Courage awards and making Joy & Miriam Variety Ambassadors has really boosted their confidence."
Pamela Sinclair, Variety's Chief Barker said:
"Having been involved with Variety's Wheelchair Programme for many years, I have followed the Progress of Joy and Miriam with great interest. What they have achieved is both astonishing and inspirational."
Variety-funded wheelchairs have helped encourage other young basketball sportswomen too. Freya Levy, Megan Wood, Miriam Haizelden and Michaela Bell all recently won Gold at the European Championships.
Looks like 2016 is set for another great year for British wheelchair sport.