10th April 2012
Wessex Hosts A Variety Of Easter Activities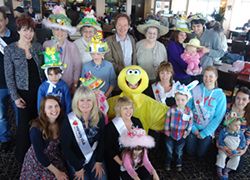 The Easter weekend is always a busy time for our Wessex committee as they hosted their annual Easter Bonnet competition and also met a legendary comedian, who is a big fan of feather dusters! Variety Wessex held their 4th Annual Easter Bonnet Competition, hosted by Anthony Bygraves and Chair of Variety Wessex, Frances Cornelius.
We were delighted to have Variety Wessex Ambassador, actress and impressionist, Debra Stephenson as well as designer, Celia Bygraves to judge the beautiful bonnets.
1st prize was awarded to five year old, Natalie, who won the full use of the Pier Theatre for a show. 2nd prize went to 11 year old, Luke, winner of a large Easter egg and the 3rd prize of 10 tickets for shows in the Pier Theatre during the summer was won by six year old, Judy. Thank you to all of the Wessex committee, Debra and Celia for their support with the event.
The Wessex committee didn't have too much of a well-deserved Easter rest as Chair, Frances Cornelius and Committee members, Barry Smith and Terri Spencer, all helped with a bucket collection after the Ken Dodd show at the Bournemouth Pavilion on Saturday 7th April. Ken very kindly read out the details of an appeal that Variety Wessex are currently collecting for and we were really pleased to raise a fantastic £247 from the collection.
After the show, the committee members went backstage to thank Ken and were greeted by a little tickle from one of his famous feather dusters!
Our huge thanks to Ken and his partner Ann for their ongoing support of Variety Wessex.