19th December 2013
VAW Big Top Christmas Party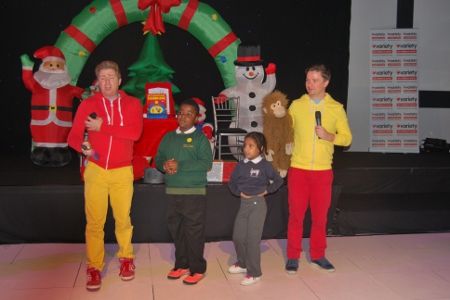 650 children and their carers enjoyed a fabulous Christmas party at the Big Top in Bloomsbury. The event included wonderful entertainment, face painters, lunch and a visit to Santa's grotto…..plus a present to take home!
A surprise appearance was made by Steve McFadden( Phil Mitchell, Eastenders) who met the children and very happily signed autographs and chatted to many of his excited young fans! Thanks Steve for giving up your time to visit!
Very special thanks are to be given to the sponsors of the event ACI UK, the donation of lunch packs by Soho Foods, Kinnerton chocolates and the use of the Bloomsbury Big Top and owners Diane and Denis McCourt.
Deborah Barrett, from New Rush Hall School, sent us a wonderful collage of photo's from their day at the Big Top and said:
Thank you for a lovely day!