4th April 2016
The eggs-cellent story of 76 giant Easter eggs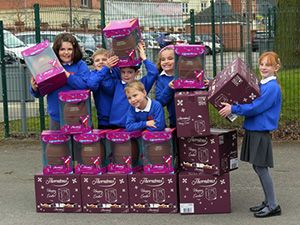 Thanks to the generous donation of 76 giant Easter eggs by master chocolate makers Thorntons; Variety has announced that it has raised over £1200 to date through the organization of an exciting Easter Egg Raffle. Donations are still being received from participating local Midlands businesses – with the campaign on course to raise £2000.

The Variety Midlands team recruited a range of enthusiastic local businesses – including hair salons, offices, pubs, and hotels – to hold a raffle amongst their employees and customers in order to raise vital funds for disabled and disadvantaged children living in the Midlands region.
The campaign was given a further boost by the donation of an additional 200 Easter Eggs from Britannia Services Limited, based in Lichfield. Britannia Services arranged a special delivery of the eggs to local schools and community groups supporting hundreds of disadvantaged children; much to their surprise and delight. These included: Merstone School in Smith's Wood, Elim Life Church in Kingstanding, Pens Meadow School in Dudley and The Royal School for the Deaf in Derbyshire.
Charlotte Allen, Regional Fundraising Manager for Variety said:
"We can't thank Thorntons and Britannia Services enough for their generous support. Thanks to them, hundreds of children have received an Easter treat this year. We are also extremely grateful for all the funds raised by the local businesses that so kindly got on board and took part in Variety's raffle."
Mary Morrison, Operations Manager for Elim Life Church said:
"We were so thrilled to receive such lovely Easter Eggs and so were the children who we support in the local community. Thanks must go to Variety, the Children's Charity, for thinking of us."