18th January 2013
Variety's 2013 Gold Heart Launch Is A Monstropolis of An Event !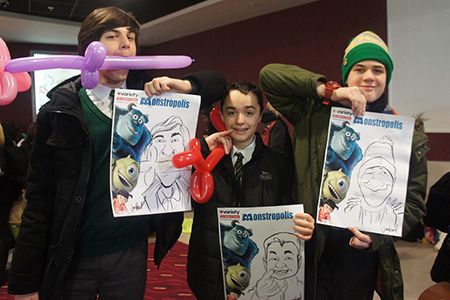 Variety, the Children's Charity, have partnered with Walt Disney Pictures to create a special edition Gold Heart badge, featuring Mike and Sulley from Pixar's Monsters Inc.The special edition badge will help to raise funds for disabled and disadvantaged children and young people.
It will be available in our online Variety Shop for £3.00 and £1.00 at selected cinemas and retailers across the UK, including Cineworld, Drusilla's Park, Odeon, H Samuel and Leeds Building Society.
To celebrate the launch of the Gold Hearts badge and the 3D re-release of the popular film Monsters Inc we teamed up with our long-term partners CineWorld for an exclusive pop-up screening of the film. Attended by 269 kids supported by our Variety at Work scheme who provide memorable experiences, we had our own Monstropolis! Bringing Monsters Inc to life with a variety of experiential activity.
CBBC Ben Smith also known as Nathan Carter from CBBC's 4 O'clock show hosted the screening and said:
"Monsters Inc. is one of my favourite films so it's great to be part of providing a one-off experience for kids supported by a great charity like Variety and also helping to introduce such a classic to a new generation in 3D"
Since 1991, Variety's Gold Heart Appeal has been the charity's signature campaign in the UK and worldwide. In recent years Variety has worked with major film companies, including Disney, Lucasfilms, Paramount, DreamWorks, and Warner Bros. to design an annual special edition badge, based on a universally recognised film, character or celebrity that is sold primarily in selected cinemas, venues and retailers across the U.K. To date, Variety's Gold Heart appeal has raised more than £20 million to help thousands of children and young people in U.K.