22nd May 2012
Variety Wessex Has A Winner!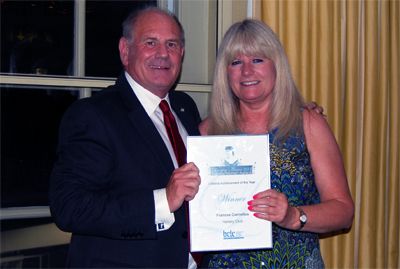 Congratulations to our very own, Frances Cornelius, Chairman of Variety Wessex, for winning the Bournemouth Chamber Lifetime Achievement Award at the Venus Awards last Thursday.
The Venus Awards celebrates women in the world of business and those who are successful in other forms, including juggling the demands of every day life while still putting others before themselves. The 2012 Dorset awards took place at Langtry Manor Hotel on Thursday 17th May and the 45 awards across 15 awards were picked from an overall list of 800 nominations.
Frances was awarded the Lifetime Achievement award for her tireless dedication to Variety Wessex. Our team on the south coast are a very active group who organise everything from special parties for disabled and disadvantaged youngsters in the region, to fundraising for Sunshine Coaches and holding glamorous fashion shows and balls.
Frances is a hugely supportive Chairman and is always ready to give her time to the charity in order to help the many children and young people we work with each year.
Many congratulations to Frances on her very well derserved award and keep up the marvellous work – we can't thank you enough for your supporrt!