24th October 2018
Variety Unveils Nominees for the Catherine Awards, Honouring Exemplary Women in Business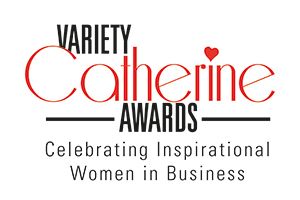 Variety, the Children's Charity today announced the nominees for the annual Catherine Awards, which celebrate and showcase inspiring women from the worlds of business and philanthropy.
This year's nominees include Dame Natalie Sara Massenet, founder and former CEO of premier online luxury fashion destination Net-A-Porter; chief executive of Starling Bank, Anne Boden, creative director of her eponymous beauty and skincare brand, Charlotte Tilbury MBE and team GB Paralympian, Joy Haizelden amongst many others.
The winners of the awards will be decided by a panel of judges, all of whom have a proven record in their field. This year's judges include sporting legend Paula Radcliffe MBE, Kanya King MBE, Founder, MOBO Awards, Lisa Francis, CEO, Barclays Private Bank, UK and Ireland, Dr Maggie Semple OBE and Lesley Batchelor OBE, Director General, Institute of Export and International Trade.
The winners will be announced at the Catherine Awards on 13 November, 2018 the London Marriott Hotel in Grosvenor Square.
The Variety Catherine Awards showcase and celebrate inspiring women in the UK who have excelled in their respective industries. All money raised from the awards will help Variety improve the lives of children and young people throughout the UK who are disabled or disadvantaged.
Pamela Sinclair, Chair of the Variety Catherine Awards committee, said:
"We are delighted that once again the Variety Catherine Awards has attracted the very highest calibre and diverse pool of talent from an amazing array of sectors. The judges will have an almost impossible task of picking winners. The committee is very much looking forward to recognising the achievements of all our nominees next month."
The award categories are as follows:
Rising Star Award
Entrepreneurial Spirit Award
Finance and Banking Award
Professional Services Award
Creative Industries Award
Science and Technology Award
Retail and Fashion Award
Inspirational Award
Sports Industries Award
Women's Empowerment in the Workplace Award
The 2018 Nominees are as follows:
Rising Star Award
Rav Bumbra – Structur3d People
Stephanie Khalef-Wassmer – JP Morgan
Erin Moroney – Nibble Protein
Temi Mwale – The 4Front Project
Lucy Pottinger – Orbis Education and Care
Amy Williams – Good-Loop
Entrepreneurial Spirit Award
Mavis Amankwah – Rich Visions
Lara Bywater – LDC Care Company
Pip Jamieson – The Dots
Sukhi Jutla – MarketOrders
Helen Mitchell – Blukudu Ltd
Jo Tutchener-Sharp – Scamp & Dude
Finance and Banking Award
Anne Boden OBE – Starling Bank
Maria Harris – Atom bank
Erica Ingham – MediaCom North Ltd
Madeleine McDougall – Lloyds Banking Group
Carolyn Porretta – AIG Asset Management Europe
Lorna Tilbian – Rightmove, Euromoney, M&C Saatchi, Jupiter UK Growth Investment Trust plc, Proven VCT plc
Professional Services Award
Alisa Grafton – Cheeswrights Notaries
Lesley Gregory – Memery Crystal
Tracey Groves – Intelligent Ethics
Karen Kerrigan – Seedrs
Sarah Khan-Bashir – MBE Shire Solicitors
Sara Maccallum – Boodle Hatfield LLP
Creative Industries Award
Karen Gibson – The Kingdom Choir
Vanessa Kingori – Vogue
Lisa Milton – HQ Stories
Chi-chi Nwanoku OBE – Chineke! Foundation
Professor Shirley J. Thompson – Shirley Thompson Music
Science and Technology Award
Kate Burns – Hambro Perks
Janthana Kaenprakhamroy – Tapoly
Riham Satti – MeVitae
Minerva Singh – Imperial College London
Samantha Z Tross – Consultant Orthopaedic Surgeon
Alison Watson MBE – CLASS OF YOUR OWN LIMITED
Retail and Fashion Award
Kate Hardcastle MBE – Insight with Passion
Raishma Islam- RAISHMA READY TO WEAR LTD
Dame Natalie Sara Massenet – Farfetch, Imaginary Ventures, Net-a Proter (formerly)
Sherrille Riley – Nails & Brows
Charlotte Tilbury – Charlotte Tilbury
Inspirational Award
Baroness Floella Benjamin OBE – DL Floella Benjamin Productions
Henny Braund – Anthony Nolan
Margaret Casely-Hayford – Shakespeare's Globe
Camilla Marcus-Dew – The Soap Co.
Taban Shoresh – The Lotus Flower
Julia Streets – Streets Consulting Ltd
Sports Industries Award
Crista Cullen MBE – Olympic Gold Medal Winner and avid conservationist
Joy Haizelden – Paralympian
Julia Immonen – Justice and Care
Joanna Tongue – Tongue Tied Media
Jayne Torvill OBE – English Ice Dancer and Olympic Gold Medal Winner
Women's Empowerment in the Workplace Award
Beyond
Bird & Bird
Silicon Valley Bank
The Typeface Group
WERKIN
Women Returners