16th April 2012
Variety Supports Paralympic Prospects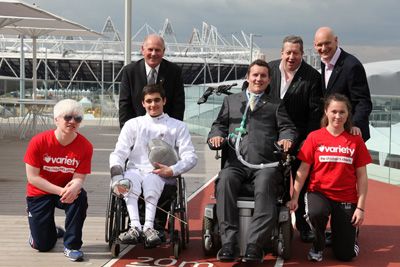 It was a pleasure to have Olympian, Duncan Goodhew, with us for a special Paralympic photoshoot overlooking the Olympic Park in Stratford, as we celebrated the 2012 prospects whom we are extremely proud to have supported.
Variety-supported athletes who were a part of the shoot included 16 year old Amy Wareing who is currently British number one in 100m, 200m and discus, and 18 year old Jack Roughan, who is partitally sighted and competes in the long jump, 100m and 200m. Jack is currently ranked the fastest in the world for his age group and disability category. We also had fencer, Dimitri Coutya, join us at the shoot, whom recently won Gold and Silver at the National Fencing Championships in Sheffield.
All three young athletes are hoping to fulfil their ambitions and be named as a part of the Team GB squad to compete at the London 2012 Paralympics this summer.

Duncan Goodhew, an Olympic gold medallist in the 100m breaststroke at Moscow in 1988, was a part of the shoot and said,:
"I was honoured when I was asked to be here and lend my support to Matt, Jack and Amy as they continue their dreams of participating at London 2012."

"I know from personal experience that no-one gets to this level by themselves and so it is great to know there is a charity like Variety which supports young disabled athletes as they develop into world-class competitors."
We were also delighted to have our Ambassador, Matt King, who is due to be an Olympic Torchbearer as a part of the relay on July 9th.
Variety supported Matt by supplying a highly specialised power wheelchair to enable him to return to his studies following the serious rugby league playing injury he obtained when he was just 17. Matt went on to obtain a first class law degree and is now employed as a lawyer in London.

Keith Andrews, Variety's Chief Barker, said:
"It has been such a pleasure to be here and to see some of the concrete results of the various work Variety does. Sport is such a positive and healthy way for children and young people to enrich their lives, and we are extremely proud of the endless achievements of Variety-supported athletes and cannot wait to see them compete for their country."