28th March 2012
Variety Sunshine Coach Presented To Yorkshire School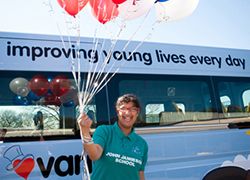 We were delighted to present a Variety Sunshine Coach to John Jamieson School in Leeds, thanks to the support of De Vere Oulton Hall.
The coach, which has been sponsored by De Vere Hotels, will be used to transport the pupils, who have learning and physical difficulties to their college links and work placements.
The 17 seated coach which has a tail-lift will enable the young people of John Jamieson School to embark upon a number of educational and recreational pursuits which will expand their learning experience and enable them to interact with the wider community.
This Variety Sunshine Coach has been generously funded by De Vere Hotels and is the ninth sunshine coach to be funded by De Vere Hotels in the past three years.
Iain Waite, General Manager at De Vere Oulton Hall who is presenting the coach on behalf of De Vere Hotels commented:
"We are extremely pleased and proud to be presenting this Variety Sunshine Coach to John Jamieson School and know it will provide many years of enjoyment and convenience for the pupils and wider school community."
"De Vere Hotels staff, suppliers and customers have been fundraising for Variety, the Children's Charity, for the past three years and it is very rewarding to see first hand the impact that our fundraising efforts have on the children and young people who benefit from Variety's support".
Janet Simpson of John Jamieson School said:
"We are truly thankful for the donation of the Sunshine Coach from Variety and De Vere Hotels. Having this coach will enable our pupils to attend college and work placements, attend weekly activities and access new activities in the wider community."