4th July 2012
Variety Remembers Eric Sykes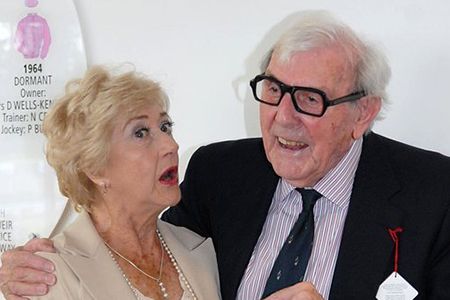 All at Variety, the Children's Charity, were very sad to hear of the passing of Great British actor and writer, Eric Sykes, who has died aged 89 following a short illness.
Eric was a wonderful supporter of Variety over a career in radio, film and television that spanned more than 50 years and saw him work alongside comedy greats such as Tommy Cooper and Spike Milligan.
Eric was a keen golfer and was heavily involved with the Variety Golf Society, often organising charity tournaments at Ovingdean Golf Club in East Brighton with his friends James Carreas of Hammer Horror Films, Christopher Lee and Ronnie Corbett.
The Variety Golf Society has raised many millions of pounds to provide Sunshine Coaches for children and young people from all walks of life and Eric's support was always greatly appreciated.
Eric started his radio career in post-war London when he arrived in the city during the coldest winter in living memory (1946-1947). Expecting to find work easily, Eric instead found himself cold, hungry and without any money, a chance meeting with Bill Fraser was to be his saviour and he was soon in demand to write scripts for BBC radio series' including 'Educating Archie' and 'Variety Bandstand'.
In the early 1950s, Eric moved into television and wrote material for Frankie Howerd shows and working with Spike Millingan on his 'Goon Show'.

During the 60s, Eric worked with his long-time friend, Hattie Jacques, in a new BBC 30 minute sitcom, 'Sykes and A…' both writing and starring in the show. The series proved to be a hit and ran for five years including a Christmas special.
Eric continued to work on many television shows throughout the 1960s and well into the 70s, and was honoured with a 'Life Is Your Life' special on 25th December 1979.

Later in his life, Eric branched out into a a range of roles that included providing the narration for the BBC children's series, 'Teletubbies' – it is Eric's voice that one hears in the opening titles and also on the theme that went to number one in 1997!
In 1997, Variety hosted a special lunch at The Dorchester, London, to mark his 50 years in showbusiness alongside guests such as Sir Bruce Forsyth, Bob Hoskins, Ken Dodd and Spike Milligan.
He also starred as Frank Bryce in 'Harry Potter and the Goblet of Fire' and was a guest actor in episodes of 'Last of the Summer Wine', 'New Tricks' and 'My Family'.

Variety awarded Eric with a 'Lifetime Achievement Award' at our 2002 Showbiz Awards and he was later awarded a CBE for services to drama in the 2004 New Year Honours List. In 2005, Eric was voted one of the top 50 British comedians by a Comedians' Comedian poll.

As one of the best in showbusiness, it was always a pleasure to have Eric as a guest at our events and we are so grateful for all of his support. Our best wishes and thoughts go to his wife, Edith, and his family.