14th July 2017
Variety Puts Potential Paralympian in the Driving Seat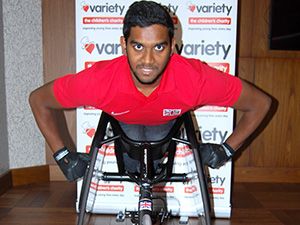 On the day that Variety launched its Level Playing Field Report it presented another sports wheelchair at a formal presentation in London.
Dillon was presented with a new, tailor made, Mistral Racing Chair at the Devonshire Club by star of Bravo TV's 'Ladies of London', Sophie Stanbury.
Joanne Cohen, co-chair of the Wheelchair Programme, made Dillon a Young Ambassador on behalf of the Wheelchair Committee and the Charity.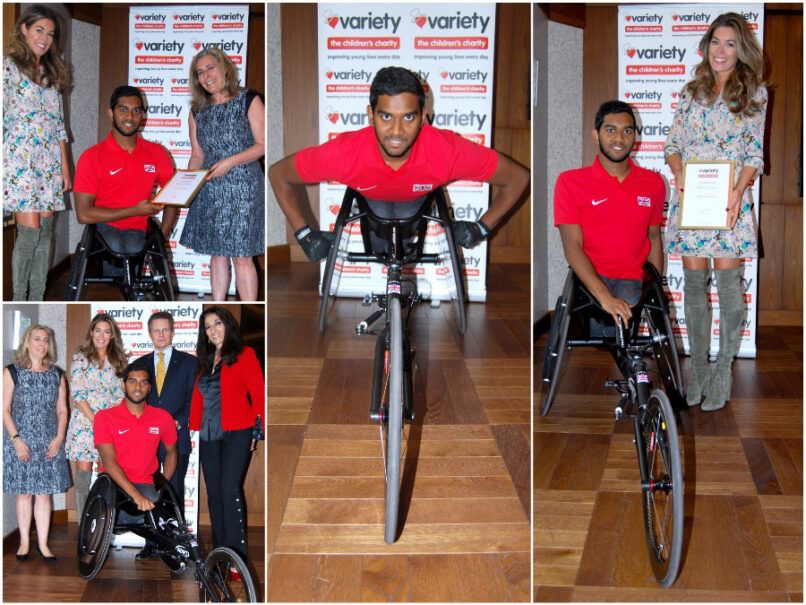 Dillon's determination and commitment to pursue the highest accolade in wheelchair racing has enabled him to overcome paraplegia, bilateral hip dislocation, scoliosis and other conditions to climb into the UK top 10 (T54) rankings. Now aged 19, Dillon attends gruelling training sessions 20 times a month at the Weir Archer Academy where he was awarded Athlete of the Year in 2014.
With an ambition to represent his country at the next Paralympics, Dillon is now on the GB Talent Development Programme, but to compete at this level he needed a racing wheelchair that wouldn't hold him back. His coach could see that Dillon had outgrown his chair and that it was hindering both his technique and his performance. That's when Variety, with the generous support of a sponsor, renowned author Natalie Livingstone, stepped in to make it possible for Dillon to have a wheelchair fitted to his specific measurements and needs.
Speaking to an audience of supporters Dillon said:
"The chair is helping me to achieve my ultimate goal of competing in the Paralympic Games".
Presenting the wheelchair, Sophie said
"Dillon is an inspiration to children all over the UK. What a privilege to meet such a driven and talented young man. I'm grateful to Variety for being able to provide such a vital piece of equipment which will enable him to give his very best in a sport he clearly loves".
Variety was represented by Chief Barker, Nick Shattock, who also commented:
"We wish Dillon the very best of luck and will be keenly following his progress to Tokyo 2020. His dedication and ambition are remarkable. Taking part in sport allows disabled children to develop self-confidence, supports their physical wellbeing and can lead to a greater sense of independence. As our Level Playing Field report out today highlights, the need for specialist equipment is greater than ever."
Since the inception of its wheelchair programme in 1988, Variety, the Children's Charity has presented over 4000 wheelchairs to children all over the UK.