25th February 2021
Variety pays tribute to inspiring Wheelchair Ambassador, Matt King, OBE
Press releases
Wheelchairs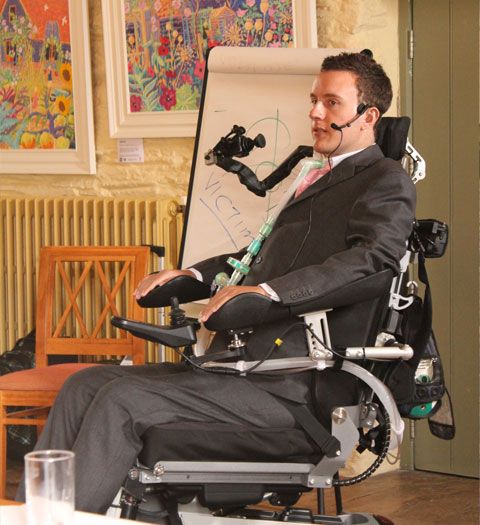 Variety is heartbroken to announce that Matt King, OBE, Variety's remarkable Wheelchair Ambassador, has died at the age of 33.
Matt suffered a serious spinal injury as a seventeen-year-old, while playing for the London Broncos Academy in 2004 – his first steps towards a professional rugby career. The accident left him paralysed from the neck down and unable to breathe independently.
After nine months in hospital, Matt was discharged with only a basic manual wheelchair, which meant he had to rely on others to push him around. Variety was able to step in and fund a customised, mouth-controlled powered wheelchair for him, with elevating sit-to-standing functionality. This allowed him to regain a considerable degree of independence, and he was able to return to school and complete his A-levels.
Matt always credited Variety's contribution with helping him to overcome his adversity, imagine a future again, and build a worthwhile life for himself.
In 2009, Variety was again able to fund a second, front-wheel-drive-powered wheelchair for him. With its more flexible, ergonomic range of positioning, and its smoother, near-silent movement across a variety of surfaces, this new wheelchair was ideal for both educational and work settings.
He went on to obtain a first-class honours law degree, qualifying as a lawyer in 2016. He then established himself as a personal injury trainee solicitor at a well-regarded London law firm, before joining the in-house legal counsel team at the Williams Group, where he advised on legal matters regarding Formula One racing and advanced engineering businesses.
Having smashed all expectations around his own disability, Matt was delighted to accept the role of Wheelchair Ambassador for Variety in 2006. In this capacity, he was the keynote speaker at many major Variety fundraising events, including the Duke of Edinburgh's 85th birthday Rugby Legends dinner at the Savoy in 2006, Variety's 70th anniversary celebrations at Buckingham Palace in 2019, and the Variety Property Awards, 'the PROPS', for several years running. He also made many wheelchair presentations on behalf of Variety.
Having experienced for himself the far-reaching difference that the 'right' wheelchair can make to a young person's life, Matt never tired of championing Variety's work with disabled and disadvantaged children and young people, drawing scores of new supporters to the cause.
As a pioneer who refused to accept the limitations of his condition, he also became an inspirational speaker with businesses, education and sports teams across the UK. With his brand of infectious enthusiasm, and his conviction that it's possible to create a good life in the face of serious adversity, he was able to help others overcome their obstacles. A high point in his speaking career was a TED talk he was asked to give in 2019.
Outside of work, Matt was an accomplished mouth artist, and he became the first paralysed athlete on a ventilator to ski, as well as the first to finish a marathon, steering his motorised wheelchair through New York's city streets with his chin as he took part in the New York Marathon in 2007. Variety was particularly proud to have secured sponsorship for him so that he could take part. He also participated in the Great Northern Run on two occasions.
In recognition of his community engagement, Matt was invited to be an Olympic Torchbearer in 2012. He was also awarded an OBE in 2013 for outstanding services to charity, having raised tens of thousands of pounds for a number of organisations through a series of events and activities.
Matt was determined to live a full personal life too. In 2016, he married the woman of his dreams, Ilona, and went on to have two lovely daughters, Arabella, who is now two years old, and baby Georgia, who is just 11 months old.
Matt will be deeply missed by all at Variety, and his remarkable life will continue to be an inspiration to children and young people with disabilities everywhere.
Pamela Sinclair, a Variety Trustee, commented: "I was privileged to meet Matt for the first time 16 years ago when he was at Stoke Mandeville Hospital, having suffered such a serious injury. Thus begun a friendship not only with Matt, but also his dear parents, Glenda and Chris. Variety facilitated providing his wheelchair, but what an inspiration Matt proved to be – and to have accomplished so much in a relatively short time. I am heartbroken at his passing, but I know that I speak for most that we can celebrate his life. To me he was a hero, and he has left a huge void."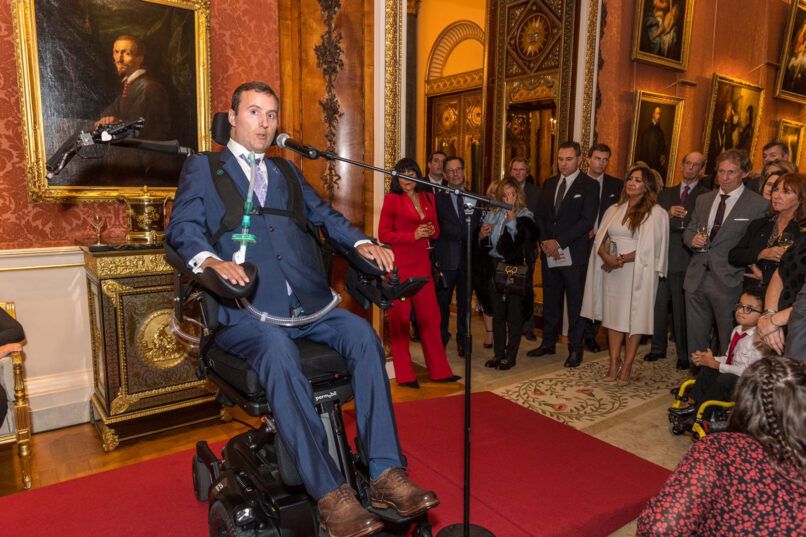 Matt King was the keynote speaker at Variety's 70th birthday celebrations in 2019 at Buckingham Palace. There wasn't a dry eye in the room when he told his remarkable story.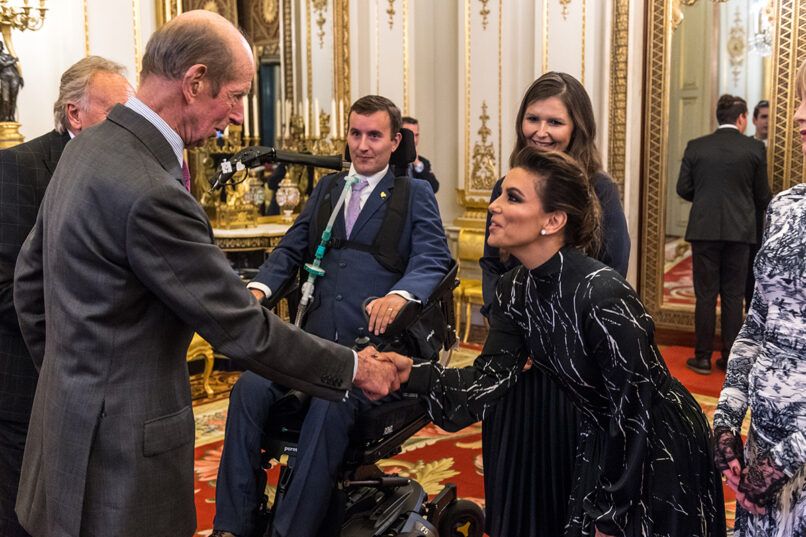 He is seen here with HRH The Duke of Kent and Eva Langoria.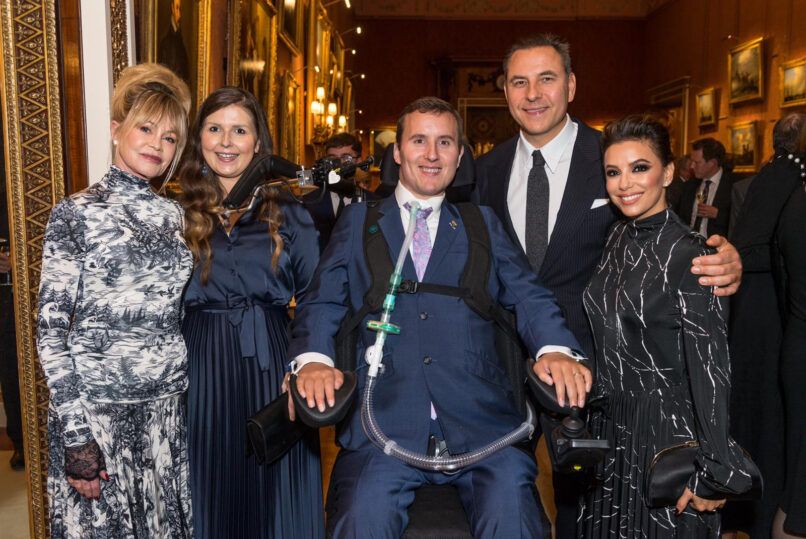 Together with wife Ilona, Matt enjoyed meeting Melanie Griffiths, David Walliams and Eva Longoria.
Matt King gave keynote speeches at a many Variety events.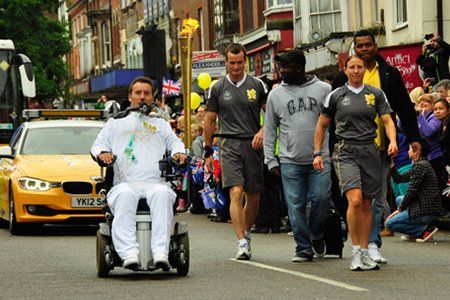 He was also asked to be a Torchbearer for the Paralympics in 2012.