1st April 2016
Variety Mourns the Passing of Ronnie Corbett CBE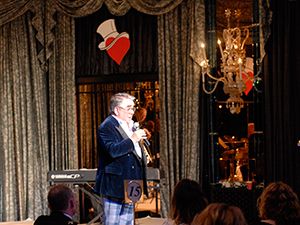 A video tribute to Ronnie Corbett CBE, produced for the Variety Club (as it was then) Gala Dinner to mark his 80th birthday in 2010.
All of us at Variety, the Children's Charity, were deeply saddened to hear of the passing of the legendary Ronnie Corbett CBE. An incomparable comic and performer, whether alone or as half of our country's most beloved double act, Ronnie's contributions to show business, British culture and the lives of the millions who welcomed him into their homes each week, laughing along to his work on their television sets, can never be overstated.
We remember a man of genuine warmth and huge generosity – a man who would always make time for our charity. Whether entertaining guests at innumerable Variety events, performing for the children or leaving fellow players doubled-over in hysterics as he walked the course during our Variety Golf Society days, Ronnie lived to bring joy to all he met, and never failed to do so.
Variety's "Tribute to Ronnie Corbett" Gala Dinner in 2010, on the occasion of his 80th birthday, was attended by a large number of comic greats, lining up to perform and honour their icon's life-work and contributions to charity – a true testament to his immeasurable influence and enduring popularity. It was our privilege to present a Variety Silver Heart to Ronnie at this event.
On behalf of all at Variety, the Children's Charity, Chief Barker Pamela Sinclair said:
'Ronnie was a one of a kind entertainer, a pioneering comedian, and a true friend of the charity. Ours will be one voice in many speaking in tribute to a man who was universally adored. He will live forever in the memories of us all. We thank him for years of steadfast support, and send our sincere condolences to Anne and all Ronnie's family.'