10th June 2014
Variety Hosts A Gastronomic Comedy Feast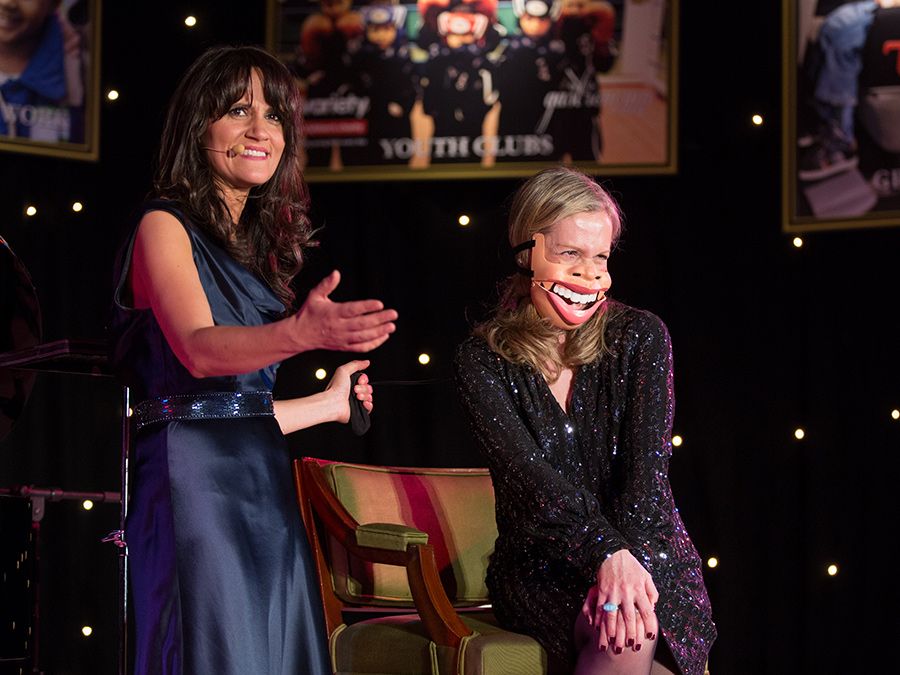 On the 4th June 2014, Variety, the Children's Charity, celebrated the 12th Anniversary of The Gastronomic Evening at The Dorchester, Park Lane, London, which featured a six-course menu designed by Henry Brosi, The Dorchester's Executive Head Chef. Wines were carefully selected for each course by Master of Wine, Conal Gregory.
The guests at the sold-out event were entertained by performances from Variety's celebrity supporters, Nina Conti and Natalie Coyle.
The evening began with guests sampling the first of the evenings wine list, Pol Roger Brut Réserve Champagne before entering the ballroom to proceed with the evening's festivities. The exquisite menu featured Sea Bass and South Down Lamb, with accompanying wines, Cuma Organic cabernet Sauvignon 2013 and a Château La Fleur Grands Lands, Montagne St Emillion 2009. While dining on these culinary delights, guests were bowled over by the renowned, classically trained Soprano, Natalie Coyle, who captivated the audience with numbers including 'I could have danced all night' and 'You'll never walk alone'. Nina Conti concluded the evening with a rip roaring routine, which included her 'Monkey' and also guest participation, making this truly an evening to be remembered.
Most importantly, over £140,000.00 was raised throughout the evening, with the help of an exciting live auction presided over by Charlie Ross, who has helped raised thousands of pounds for Variety over the years.
The truly special guest of the evening was Georgia Rankin, who attended the event along with her parents, Andrea and Simon Rankin, and her little brother Brody Rankin. Fifteen year old Georgia was born with a rare form of skeletal dysplasia, known too many as dwarfism. With the help of Variety, who stepped in and helped identify Georgia's exact needs, she has been provided with a 'Snap Dragon' wheelchair. This wheelchair will significantly increase Georgia's mobility and independence, enabling her to do tasks that many of us take for granted. Variety was also extremely delighted to award Georgia on the night as the newest Variety Young Ambassador.
Chief Barker of Variety, Trevor Green, said:
"It was my greatest pleasure to present Georgia with her certificate on the night and I am absolutely delighted that she has agreed to become a Variety Young Ambassador. These young people really are our stars."
Lionel Rosenblatt, Chairman of the Gastronomic Dinner Professionals Committee said:
"It was a fantastic evening and I am absolutely delighted with the result. A highlight for me particularly has to be Natalie Coyle's rendition of 'You will never walk alone' – a tune close to my heart. I would like to thank everyone who participated and donated on the night, and particularly the Professionals Committee who dedicate many hours organising this special event. Best of all it was a pleasure to have Georgia with us, to help in reminding us all just why we do everything we can to raise money for Variety and those children whose lives we try to improve."