28th September 2012
Variety Has A Laugh With With Impressionist Jon Culshaw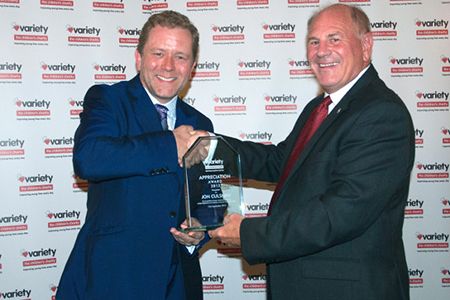 Blackpool Wyre and Fylde committee UK, August 2012: Variety, the Children's Charity, honoured Jon Culshaw with an Appreciation Award on the 21st September at The Imperial Hotel, Blackpool in recognition of the years of support he has given to the charity.
Top Television Impressionist Jon Culshaw said of the event: "Variety is extremely close to my heart so it's an honour to receive this Award, and I was overwhelmed with the support of all my friends and family who came to share in my special evening, I'm delighted to support Variety's work in the North-West and I was particularly delighted to receive my award in Blackpool as this is where I started by career with Radio Wave."
The evening consisted of some fantastic speeches and video messages from a host of celebrities including Chris Tarrant, and Brian May of Queen congratulating Jon on receiving his Appreciation Award. The guests enjoyed a sumptuous three course meal and the highlight of the evening was Jon Culshaw performing his amazing impressions for over half an hour to the delight of the audience.
Just some of the celebrity friends of Jon's joining him on the night were Kate Robbins, Emily Attack, Paul Abel, Dr Matthew Foreman, Stan Boardman, Bill Dare, John Craven, Peter Lawrence and Frazer Hines.
Jon Culshaw was delighted to receive his Appreciation Award from the Chief Barker, Keith Andrews who attended the event with his lovely wife Sue.
Keith Andrews, Chief Barker of Variety, the Children's Charity, said:
'Variety is a unique charity whose founders were entertainers who used their showbusiness contacts to put a smile on sick, disabled and disadvantaged children's faces. Our relationship with Jon Culshaw is part of this grand tradition so it's fitting that we honour him with our special Appreciation Award in Blackpool, the home of Variety for many years."
David Jones, Chairman of the Blackpool Wyre and Fylde Committee said:
"Through Jon Culshaw's Appreciation Awards evening Variety, the children's charity in Blackpool is now firmly on the map and we were delighted that John Barnett of Radio Wave and Richard Ryan of Blackpool.gov make it possible for Jon Culshaw to turn on the Blackpool Illuminations prior to the Awards Dinner."
A great night was had by all and Variety, the children's charity in the North West are delighted and honoured that we could present Jon Culshaw with this special Appreciation Award.