21st September 2018
Variety donates Sunshine Coach and 'a million miles of happiness' to students of Linwood School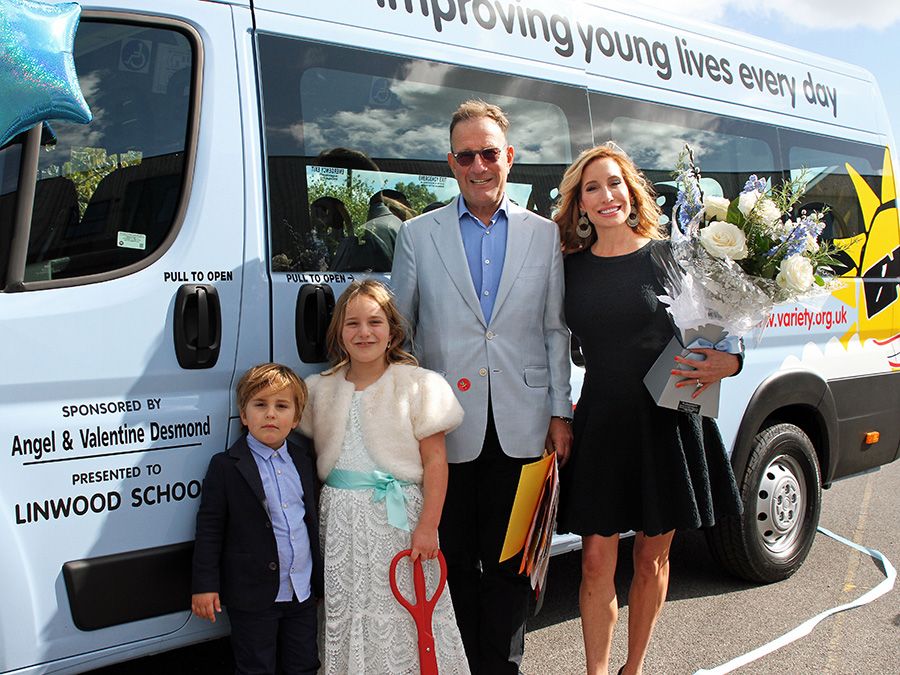 A specially adapted Sunshine Coach, provided by Variety, the Children's Charity and funded by The Desmond Foundation, has been presented to students of Linwood School in Bournemouth by Angel, 7 and Valentine, 3; daughter and son respectively of businessman and longstanding Variety supporter, Richard Desmond.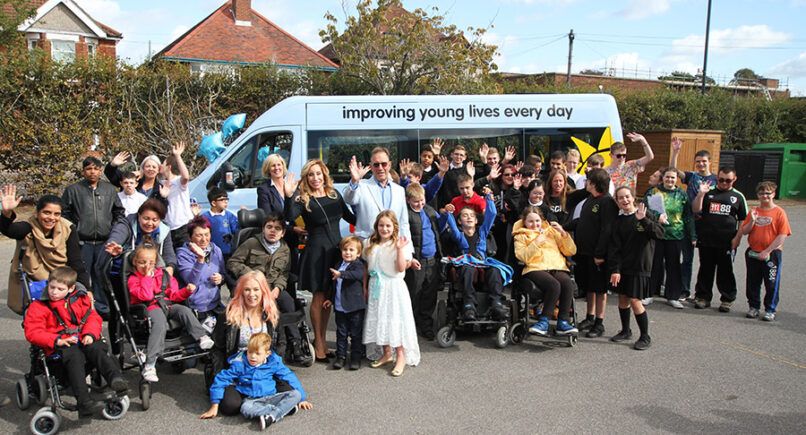 Accompanied by wife Joy at the presentation, Richard Desmond, the former owner of the Express Newspapers and founder of Northern & Shell, has supported Variety, the Children's Charity for around forty years and has donated a Sunshine Coach across the country almost every year since he began supporting the charity.

Linwood School is a special school which caters for children and young people with a comprehensive range of special educational needs and disabilities, including profound and multiple learning difficulties. The donation took place at the school's Linwood campus. The new Sunshine Coach will be used by the school every day to take children on day trips, educational visits, residential visits and work experience placements.
Variety's Sunshine Coaches have helped improve the lives of thousands of disabled or disadvantaged children across the UK. The coaches enable schools to take children on educational and recreational days out allowing children to explore places they would otherwise never have visited. Earlier this year, Variety donated their 5,500th Sunshine Coach in the UK.

Julie Jeanes, the Executive Headteacher of Linwood School said:
"We are so delighted with the donation of our Sunshine Coach today! The coach will allow our children to have positive and real-life experiences, for which we are very grateful to Variety and The Desmond Foundation."
Richard Desmond, The Desmond Foundation said:
"It's around 40 years since I began supporting Variety and I am very happy and proud to make this presentation. I'm delighted to see my children Angel and Valentine here today giving away a Sunshine coach, something they've done every year since they were born and a tradition I hope they'll continue to uphold for at least another forty years. We always used to talk of these coaches representing a 'million miles of happiness' and if my family are adding a few more miles today it's a privilege to do so."
Frances Lang, Chief Executive, Variety, the Children's Charity said:
"It is wonderful news that the children of Linwood School have today received their new Sunshine Coach thanks to the generosity of The Desmond Foundation. We are passionate about accessibility for disabled young people and this specially adapted coach will allow the children to go out and have lots of exciting adventures."