31st July 2012
Variety Charity Partnership Provides Practical Help To Cambridge Hospital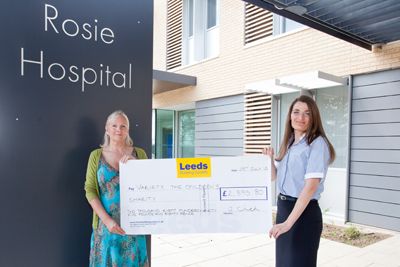 The Rosie Hospital at Addenbrookes, Cambridge, has received a gift of an electronic cot syringe driver, thanks to the support of Variety, the Children's Charity, and Leeds Building Society. The new electronic cot syringe was funded by Variety, the Children's Charity's corporate partnership with Leeds Building Society and will help staff at the hospital to deliver a greater level of care to patients.
The Rosie is one of the country's best performing maternity hospitals and is one of only three designated neo-natal units in the East of England that can treat newborns with complex medical problems and infants requiring surgery. With birth rates in the region rising year-on-year, and an increase in the number of patients with more complex medical needs, there is an urgent need to expand the services offered by the hospital.
Representatives of Leeds Building Society and Variety, the Children's Charity, were invited to The Rosie to see the specialist baby ward and to meet some of the clinical team.
Julia Click, General Manager of Leeds Building Society, Peterborough branch, said:
"This is an amazing opportunity to see how the funds we raise for Variety can make a difference to the lives of children. This cot will help infants treated at The Rosie now and in years to come and is a great example of how the legacy of our support for Variety, the Children's Charity, is far-reaching."
Colleen Ettridge, Major Accounts Manager at Variety, the Children's Charity, commented:
"Being able to show our corporate partners just how their support is making a difference to the lives of children is integral to how we work; our supporters are engaged in both fundraising and choosing what is funded."
Variety is one of the beneficiaries of the Leeds Building Society 'Your Interest in Theirs' scheme. This works by members agreeing to forego up to 99p of their interest each year and this money is then split equally between the Society's four charity partners: Variety, the Children's Charity, Marie Curie Cancer Care, Age UK and Leeds Building Society Charitable Foundation.