19th August 2014
Variety beneficiary and volunteers join Britain's Biggest Pub Tour as it reaches Aylesbury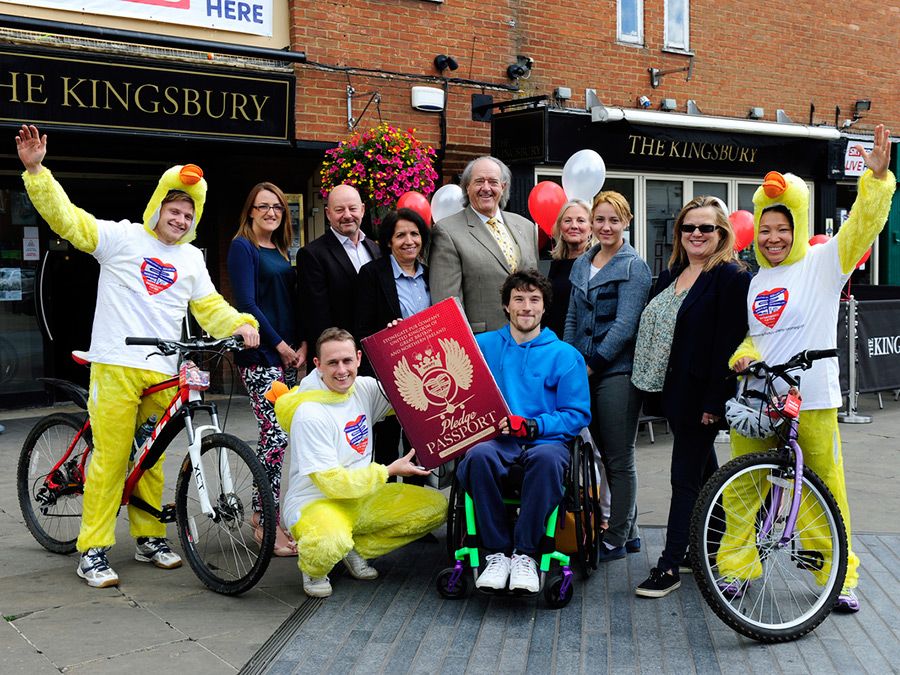 Britain's Biggest Pub Tour (BBPT) has reached Buckinghamshire and joining the tour on its whistle-stop visit was special guest, Jonny Beer, a tetraplegic from Aylesbury, who is to receive life-changing equipment as a result of funds raised through the tour.
The BBPT passport was shown at the Slug and Lettuce, Marlow before moving on to Yates's in High Wycombe and then onto The Kingsbury in Aylesbury, under 'Blue's Brothers' style police escort, where Jonny and a group of representatives from Variety were there to welcome the passport before waving it on its way to the The Litten Arms.
Dressed as Aylesbury's famous ducks the team from the Kingsbury transported the BBPT Passport via cycles onto the Litten Tree in Leighton Buzzard.
Jonnny, aged 18, was diagnosed with tetraplegia following a trampoline accident during which he severely injured his spinal cord. He has restricted movement and sensation from the neck downwards, with very limited movement in both hands, and uses a wheelchair to move around. Funds generated through Britain's Biggest Pub Tour have meant that an electrical stimulation system could be purchased for Jonny allowing him to use his hands to grip, giving him freedom to write and hold cutlery.
Speaking about the new system Jonny's mother Julia Beer said, "We are extremely grateful to Variety and their supporter The Stonegate Pub Company for funding the neurorehabilitation technology system which will help Johnny to open and close his hands and assist with activities like holding a pen and cutlery. The system will be highly beneficial in terms of optimising Johnny`s level of ability, capitalising on any further recovery that is to be made and would definitely have a positive impact on his general quality of life."
James Bancroft, Area Manager at Stonegate Pub Company and regional BBPT coordinator said, "The teams at our pubs in Marlow, High Wycombe and Aylesbury have really got behind Britain's Biggest Pub Tour with bags of enthusiasm and endless fundraising ideas. We were delighted to welcome Jonny and his family to the Kingsbury. It gives us huge motivation to see the benefits at first hand and we couldn't be happier that the efforts of our teams and customers are making real differences to the lives of children and young people such as Jonny"
To further boost funds, Stonegate has also teamed up with Pop Idol finalist and former soap star Jo Birchall, to launch the single, All About Love, in aid of Variety, which officially launches on 31st August and is now available to pre-order on iTunes.
The passport will continue its tour around the country culminating with a spectacular party at Slug and Lettuce, Tower Bridge on Friday 26 September.