1st March 2016
Variety and The Daily Mirror Work Their Magic for Louie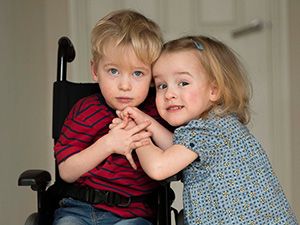 Louie and twin sister Ava Elbourne were born nine weeks prematurely and have cerebral palsy, which meant they were unable to walk. Words cannot describe how devastating this was for a parent.
In January, Ava was selected to undergo selective dorsal rhizotomy surgery as part of a trial in the UK. Within a few weeks she was walking with the help of tripod sticks!
Louie's cerebral palsy is more complex than his sister's and his parents feared the only place that can help him is a children's hospital in the US city of St Louis. However, this treatment is very expensive.
The family through a variety of fundraising activities managed to raise nearly £18,000 and The Daily Mirror's readers raised another £10,000 in just 24 hours.
Variety heard about this heart-rending story and immediately contacted the Daily Mirror to offer our help by pledging to fund the outstanding amount, which will now enable Louie to have the same operation as his twin sister without further delay.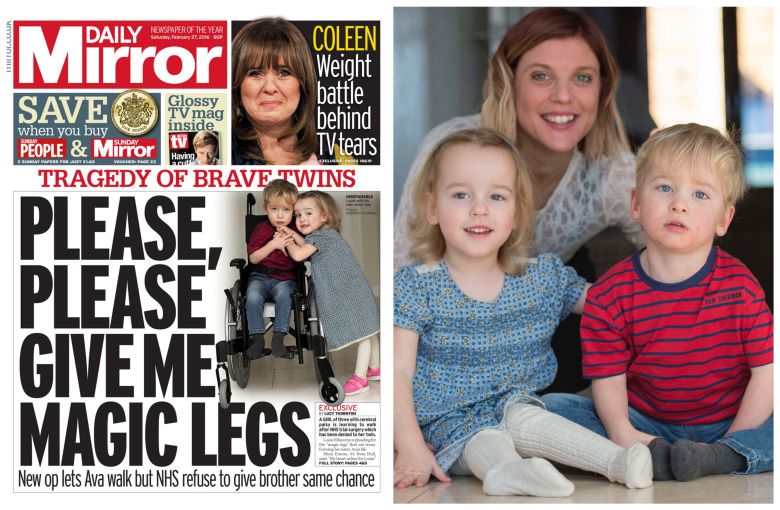 Photographer: Andy Stenning, Daily Mirror
Mum Emma said:
"Louie will have his magic legs just like Ava. It's incredible and has really shaken us. The last 24 hours have been like a whirlwind. I just hope Variety and Mirror readers realise they have changed our family's lives completely."
Chief Barker of Variety, the Children's Charity, Pamela Sinclair said:
"It was the Daily Mirror headline "Little boy begs for 'magic legs'" that caught our attention. It's unimaginable not being able to play with your twin sister. It stopped me in my tracks. I'm a twin and I remember feeling the emotions of my sister, so when I saw this family's story in the Daily Mirror it touched my heart. This is a very special case, but when I saw the story of little Ava and Louie I knew that Variety just had to help, if possible."
Lucy Thornton, from the Daily Mirror said:
"It has been amazing to work with Variety, the Children's Charity, as they helped make a family's dreams come true. They truly understand the enormous pressures faced by a mum and dad trying to do their best for two children under extraordinary circumstances.

When we told the couple the charity had stepped in to make up the shortfall for a life-changing operation, the dad said: "It is like a ton of bricks has been lifted off our shoulders".

The overwhelmed mum told how her face "ached" from smiling so much.

Variety, the Children's Charity, has helped transform that family's life and given the nation a "magic" smile."
Related Links:
Louie's dream of magic legs to match sister Ava's
Mirror readers raise £70,000 for little boy to have 'magic legs' operation like his sister