26th March 2012
Variety And Kinnerton Make 'Eggs-Citing' Delivery To Local Schools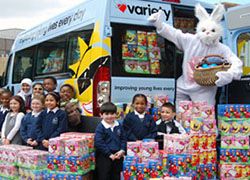 Variety, the Children's Charity, and Kinnerton Confectionery delivered over 1,000 Easter eggs to the pupils of Holmleigh School and Frank Barnes School for the Deaf in North London last week.
The sweet treats were handed out by none other than the Easter Bunny who was using the event as a practice run before the upcoming Easter weekend. The chocolatey gifts were escorted to the schools in a brand new VarietySunshine Coach that was 'choc-full' of Easter eggs.
This is the first year that Kinnerton Confectionery has teamed up with Variety and the aim of the event was to offer a memorable Easter treat to disabled and disadvantaged children in the North London area.
The day started at Kinnerton's London headquarters in Highgate where the organisers, including Founder Clive Beecham, loaded as many chocolate eggs as they could fit into the Variety Sunshine Coach.
The coach then travelled to Frank Barnes School for the Deaf in Camden and then onto the pupils at Holmleigh School in Stamford Hill, which caters for children with special needs.
Keith Andrews, Variety Chief Barker, said:
"We always need the support of companies such as Kinnerton Confectionery who are generously donating their products, enabling us to create positive experiences for the children we support."
Clive Beecham, Founder of Kinnerton Confectionery, said:
"I started Kinnerton over 30 years ago to creat bespoke confectionery and novelty treats featuring well-loved characters. I've been familiar with the work of Variety, the Children's Charity, for a long time now and I thought this was the perfect opportunity to donate our products to the children who love these characters."
"Seeing the excitement on their faces when the Variety Sunshine Coach approached was such an uplifiting experience and made it more than worthwhile."
We are also very grateful to Kinnerton Confectionery for donationg to another school we support in Norfolk. Sheringham Primary and Nursery School received their chocolate treats the following day.