26th March 2012
Variety Ambassador To Be Olympic Torchbearer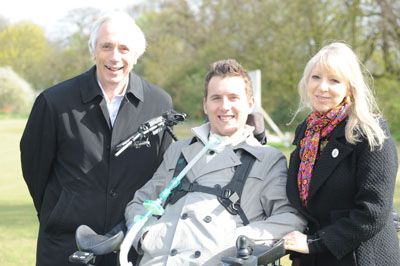 Variety, the Children's Charity, is delighted to hear that our inspirational Ambassador, Matt King is to take part in the Olympic Torch Relay this summer.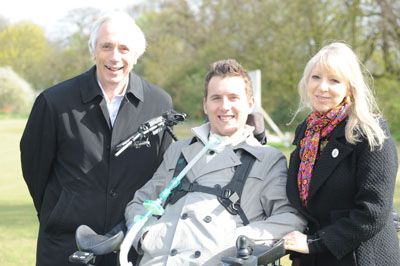 (Photo: Matt King LLB, with Chairman of the Variety "the PROPS" Committee, Neil Sinclair and Chair of the Variety Grants Committee, Pamela Sinclair)
Matt, 24 was nominated to take part in the Torch Relay by his grandfather, Peter Kay, for the determination he has shown since being paralysed from the neck down after a devastating injury while playing for the London Broncos Under 18's in 2004. Following his return home using a powered wheelchair and onboard ventilator, Matt went back to school to complete his 'A' levels and from there, went to the University of Hertfordshire to study Law, gaining a First Class Honours degree.
Now employed as a solicitor with 'Stewart's Law' in London, Variety are proud to have been able to have supported Matt following his accident and in return, we are delighted to be able to count him as a supporter. Matt is a wonderful Ambassador of our work and is always a very welcome addition to our list of speakers at "the PROPS" events, which he will be attending on Tuesday 15th May for our 21st Annual "the PROPS" Lunch.
Matt said:
"To be selected from all the worthy applicants to carry the Olympic Torch is a massive honour, and something that I am very proud to be a part of. Since my accident in 2004, I have been extremely fortunate to receive the level of support and well wishes that I have, and to be in position today where I am working as a lawyer in London and leading a relatively normal life is not something I thought possible during my long stay in hospital, and to have been selected to carry the Olympic Torch is something I can look back on in the future with great pride."
Matt will be a Torchbearer on the morning of Monday 9th July as the Olympic Flame passes through Dunstable on Luton Road (A505) and High Street North (A5).