19th June 2012
Tulip Comes Up Smelling Of Roses For Variety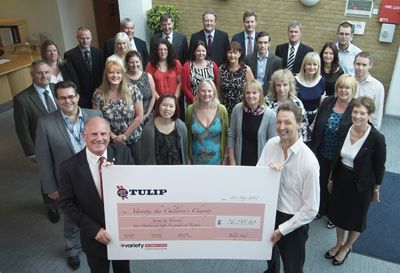 Raising over £75,000 for Variety, the Children's Charity, has been a remarkable achievement for the staff at Tulip Ltdand a cheque for £76,755.10 was presented to Variety Chief Barker, Keith Andrews, by Steve Murrells, Tulip's CEO, at a lunch attended by representatives of the fundraising teams from the 16 Tulip sites across the UK.
Tulip Ltd's HR Director, Kirsty Wilkins, said:
"This is a fantastic result. All those who have taken part in the fundraising should be really proud of their involvement."
Fundraising initiatives across Tulip included golf days, bike rides, car boot sales, dragon boat racing, virtual rowing of the English Channel, talent contests, raffles and auctions.
Team leader and HR Manager at King's Lynn, Coleen Karagianni commented:
"The 'Pigs Might Fly' team raised just over £14,000 which was our original target; as we said from the outset when we pledged to raise £14,000, failure was NOT an option."
Following on from this success, Variety are very pleased to announce that Tulip Ltd has decided to support our work for another year.
Thank you to everyone at Tulip for all of their hard work in fundraising. Your support will make a real difference to the lives of children and young people whom we support across the UK and we look forward to working with you again in the coming year!