31st July 2014
Tribute to Doug McKenzie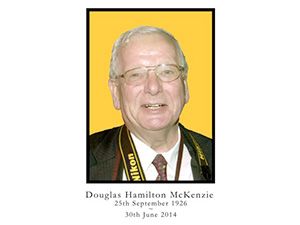 Variety, the Children's Charity, is proud to pay tribute to Doug McKenzie, Variety's official photographer from the inception of the charity in the UK in 1949 until 2012.
He moved with ease in widely varying social circles and his unobtrusive, discreet presence and unfailing courtesy made him more than just accepted by everyone, including royalty and stars of stage and screen: he was warmly welcomed. Doug had the great and rare skill of getting on with everyone and putting them at ease. He himself would point out that he was one of the few who'd been kissed by both Elizabeth Taylor (always "Miss Taylor" to Doug) and … er … Liberace.
His son, John, put it neatly, saying: "He won the respect of the well-respected'. Practically everyone Doug met seemed to become a personal friend. "His personality, as much as his technical knowledge, made his work special – so his subjects relaxed, and gave him that special shot."
He was deeply honoured to be made a Variety Barker, and in 1997 he won the Variety Club International Presidential Citation, inscribed: "A wonderful advocate and ambassador for the Variety Club, always with a heart of gold."
Trevor Green, the 2014 Chief Barker of Variety, the Children's Charity, described Doug as "Charming; highly respected – and one of the charity's most devoted supporters. He was a true professional and at his best and happiest with the children".
Richard Desmond commented: "He was probably the best and most loved showbusiness photographer around."
Julia Morley wrote recently: "We loved Doug and we feel personally linked with him. He was so encouraging and helpful. All my special family events were recorded by him – he was such an important part of our lives."
Just before he passed away, Doug donated the copyright of all the photographs he took for Variety to the charity, and these are currently being digitised and will be used for posterity. It is hoped that a book of his photographs will be produced – a lasting legacy to a much loved and respected man. The story of Doug's life will be forever firmly linked with that of Variety.
(Special thanks to Sally Wilby of the British Humanist Association who wrote this tribute).
Below are just a few of the thousands of celebrities that Doug has photographed over his 63 year relationship with Variety.