26th August 2014
The Wettest Way Is Essex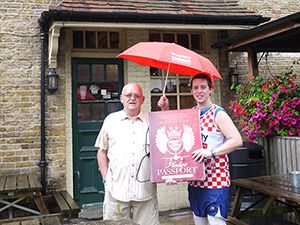 The BBPT passport clocks up the miles in Essex despite the rain.
The passport embarked on a 25-mile bike ride from Yates's in Chelmsford, transported by Stonegate Pub Company's Chief Financial Officer Dave Ross, before arriving at Yates's on Eastgate in Harlow.
After celebrating the arrival of the passport it was on its way again this time carried by a member of team, Adam Giffin, who ran with it 13.6 miles to the next stop the Warren Wood on Epping New Road, Buckhurst Hill. A small welcome party including Colleen Ettridge from Variety was there to greet Adam.
Adam commented:
It was quite a challenge, especially in such wet conditions, but knowing it was for such a wonderful cause and that the funds we are raising are going to make a difference to the lives of children I was really motivated.
Just time to dry off the passport before it continues its journey to The Goose in Romford.