17th March 2015
The Speakmans Present Sunshine Coach to Park Community Academy in Blackpool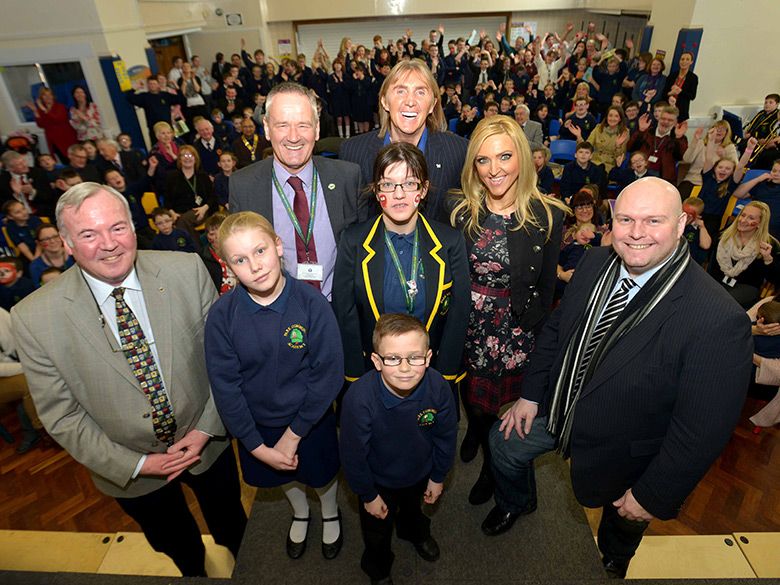 Celebrity couple Nik and Eva Speakman presented a Variety Sunshine Coach to the pupils of Park Community Academy. The specially designed vehicle, which was donated by the Rotary Club of Blackpool Palatine with the support of the Vera Wolstencroft Children and Animal Charitable Trust, will be used to transport the children on a number of educational and social outings.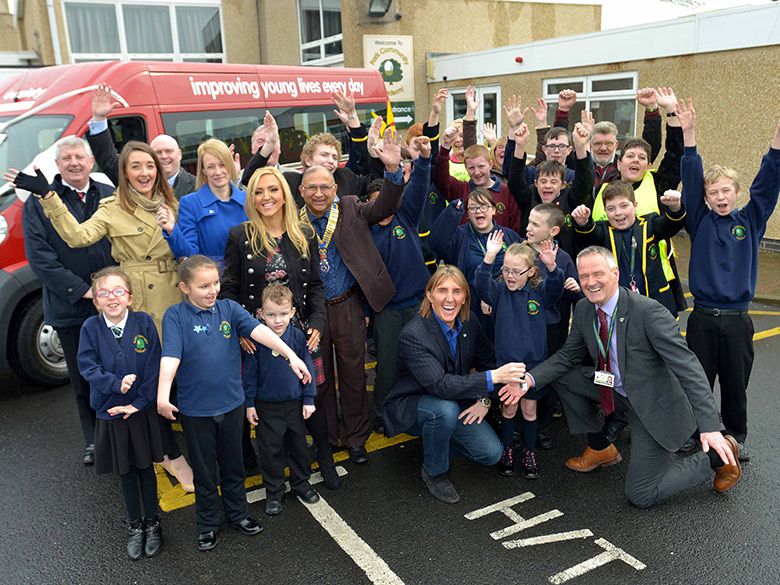 Photo: Pupils, Teachers, Rotary Committee Members and The Speakmans
Park Community Academy is a founder member of the Blackpool Multi Academy Trust and achieved academy status in September 2013. It is a Special Academy catering for boys and girls aged from 2 to 19 years.
There are about 170 pupils with a range of learning needs from moderate learning difficulties to complex learning issues and Autistic Spectrum conditions. Speech, language and sensory difficulties, along with associated social, emotional and behavioural problems, are all catered for.
The new Variety Sunshine Coach will offer the children the opportunity to experience the outside world in a safe and secure way through various trips and activities.
Rotarian Ges Naylor said:
"We are very proud to be sponsoring this Variety Sunshine Coach. We are delighted to offer support to disadvantaged children and young people who deserve to participate in every aspect of school life and to spread their wings into the community. This coach will enable them to do this."
Park Community Academy Head Teacher, Mr Berry, commented:
"We are really thankful for the donation of the specialised Sunshine Coach from Variety and The Rotary Club of Blackpool Palatine. This donation means a great deal to the children of the school. The Coach will enable them to access a wide range of off-site learning opportunities, social experiences, and learning activities outside the classroom which are an invaluable part of our children's learning and development'.
The Speakmans said:
"We were overjoyed at the welcome we received by the teachers, the pupils, the parents. The children on the day excelled themselves in showing their gratitude to everyone involved, who made this special day happen. We are so very proud to be celebrity Ambassadors for this wonderful Charity."