23rd October 2012
The Rain Couldn't Stop The Sunshine At Rumworth School In Bolton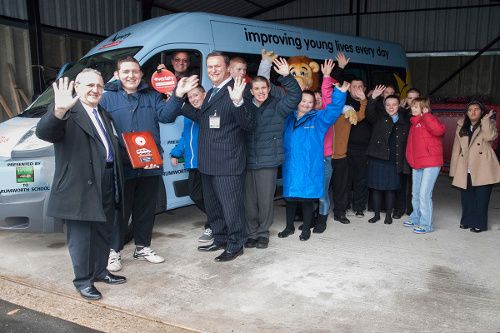 The rain couldn't stop the sunshine at Rumworth School in Bolton thanks to the support of Variety and De Vere Venues Bolton

A 17 seated Variety Sunshine Coach sponsored by De Vere Venues has been donated to Rumworth School in Bolton to enable pupils to travel to activities and additional lessons.

The coach which has a tail lift will enable the children of Rumworth School to embark upon a number of educational and recreational pursuits including participation in training courses and visiting respite and residential centres. The coach will allow students to get involved in local projects.

In addition to sponsoring the coach De Vere Venues through De Vere Whites is helping Rumworth School students to experience the world of work.

This is the fourteenth sunshine coach to be funded by De Vere Venues in the past three years.

Julie Ashford, PA to the Chief Executive Officer for De Vere Venues, commented:
"We are extremely pleased and proud to be presenting this sunshine coach to Rumworth School and know it will provide many years of support for the pupils and wider school community. De Vere Venues staff, suppliers and customers have been fundraising for Variety, the Children's Charity, for the past three years and it is very rewarding to see first hand the impact that our fundraising efforts have on the children who benefit from Variety's support".
Kevin Wilkinson of Rumworth School:
"We are truly thankful for the donation of the Sunshine Coach from Variety and De Vere Venues. Having this coach will ensure that all our students continue to get a varied curriculum by using as many out of school opportunities including a group going to France in the new bus next May."