26th April 2017
The ''PROPS'' Awards Lunch 2017 – Shortlist announced!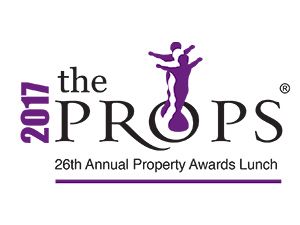 Variety's 26th Annual "the PROPS" Lunch is real estate's premier fundraising event. Since its inception in 1992, "the PROPS", dedicated to the UK's property industry, has become the premier event to support and attend, along with raising over £9 million and funding more than 2,000 custom-made electric wheelchairs in aid of Variety, the Children's Charity.
"the PROPS" Awards Lunch is taking place on Tuesday, 23rd May 2017 at the London Hilton Park Lane and for the past 25 years, has recognised individuals and companies in the property industry who have excelled. This year we are proud to honour the late Irvine Sellar, Founder and Chairman, Sellar Property with the Lifetime Achievement Award.
The list of recipients of PROPS awards over the years reads like an industry 'who's who' and we are thrilled to announce our 2017 shortlisted nominees across a range of diverse categories:
Most Promising Newcomer of the Year:
Helen Gordon, Grainger Plc
Ian Marcus, Eastdil Secured
Edward Azouz , AR&V Group
Peter Vince, Emmaus Consulting
Residential Developer of the year:
Lend Lease Group
Hub Residential
U & I Group Plc
Regal Homes
Deal of the Year
HB Reavis
Battersea Power Station Company
Brockton Capital
McLaren Property
Residential Agent of the Year
CBRE
JLL
Dexters
Marsh and Parsons
Commercial Agent of the Year
Knight Frank
Savills
Kontor Space
DTRE
Property Fund of the Year
Patron Capital
M&G Investments
Tristan Capital Partners
Benson Elliot Capital Management
Property Lender of the Year
Wells Fargo
Lloyds Banking Group
Titlestone Property Finance
OakNorth Bank
Residential Development of the Year
Vantage Point, Archway
Kidbrooke Village, Greenwich
Manhattan Loft Gardens, Olympic Park
Park Central Birmingham
Commercial Development of the Year
St James's Market, London (Joint venture development between The Crown Estate and Oxford Properties)
One City Place, Chester
7 Clarges Street, London
MEPC
Entrepreneur of the Year
Adam Neumann, WeWork
Charlie Green & Olly Olsen, The Office Group
Alex Chesterman, Zoopla
John Cutts, Mountpark
Young Property Person of the Year
Josh Garside, Paradigm Land
Charlie Desmond and Daniel Kelly, Brydell Partners
Sam Zawadzki, Property Technology
Daniel Minsky, Estate Office
Please support ''the PROPS'' and join us for what promises to be a very special day. There are a range of packages available that can be tailored to suit your needs. Contact Angie Yochum, Head of Events:
Email: props@variety.org.uk
Tel: 020 7428 8115