17th September 2014
The Greatest Show in Leicester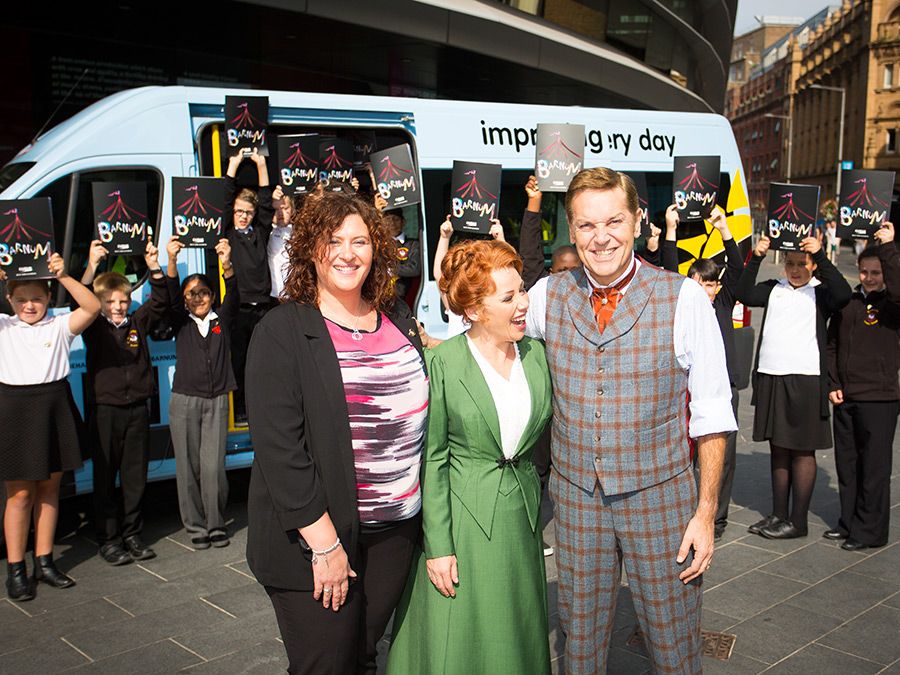 Children from Forest Lodge Primary School in Leicester, could hardly contain their excitement when they arrived in their new Sunshine Coach at 'Curve Theatre' in the city centre on 11th September, as special guests of The Mackintosh Foundation, to see the spectacular musical, Barnum.
The Foundation funded their coach and thought what better way to present it than at the theatre where a UK tour of this famous musical has just begun.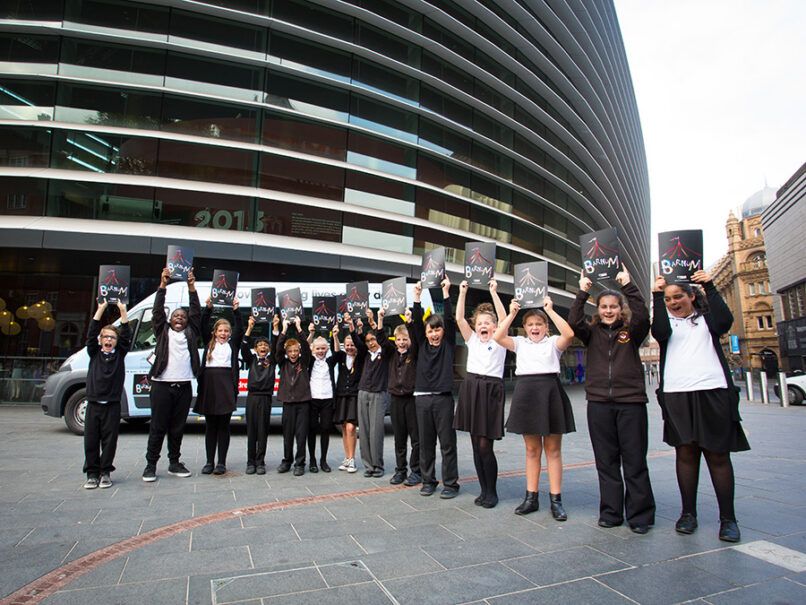 Nicolas Mackintosh, Foundation Appeals Director for The Mackintosh Foundation said:
"We are very proud to be sponsoring this Variety Sunshine Coach. We are delighted to offer support to disadvantaged children and young people who deserve to participate in every aspect of school life and to spread their wings into the community. This coach will enable them to do this."
Claire Caldwell, Headteacher with Linzi Hateley and Brian Conley the stars of Barnum, (both in costume), joined in the fun just before dashing inside for curtain up!
Claire commented:
" This has been an amazing experience for both our children and the school and will be something that they will remember for a very long time as the majority of children from our school do not have the opportunity to visit the theatre or that of other places. However, now we have a 'Sunshine Coach' this will make it possible to attend such events and many more in the future".
Trevor Green, Variety's Chief Barker said:
"Since 1962, we have donated over 5,300 Sunshine Coaches – that's more than 100 a year. Variety's specialist minibuses ensure that children can interact with the world around them and experience a fun, entertaining and educational environment, whilst ensuring they are transported as safely as possible. With the support of organisations like The Mackintosh Foundation, Variety can continue to highlight that being disabled or disadvantaged need not be a barrier to getting the most out of life."