30th May 2012
Sweltering Sunshine Doesn't Slow Down Team Variety In The Bupa 10k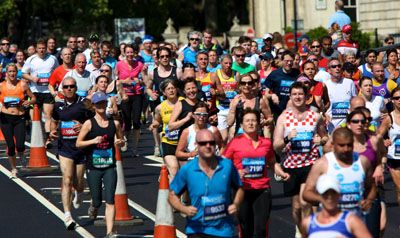 Team Variety enjoyed taking part in the BUPA London 10K on Sunday along side Team GB athletes, Mo Farah and Mara Yamauchi, as temperatures reached 27 degrees celsius in the capital.
With a team 24, including a number of Variety staff and a member of our PR team from DDA PR, there were plenty of red and white chequered vests to look out for and cheer on. Our runners weren't quite up there with the elites as both Mo Farah and Mara Yamauchi stormed to victory, but there were certainly some fantastic runners who posted some hugely impressive times.
Jan Littlewood came in at 36:09 with Derek Green not far behind with 38:07. Many of runners posted around the 45 minute to 1 hour mark, which is no easy feat when the sun was baking in even the mid-morning sunshine!
Thank you once again to everyone who took part and to their friends, families and colleagues for helping to raise great sums of money that will go a long way in helping to improve young lives across the UK.