26th November 2012
Swanwick School And Sports College Receives Sunshine Coach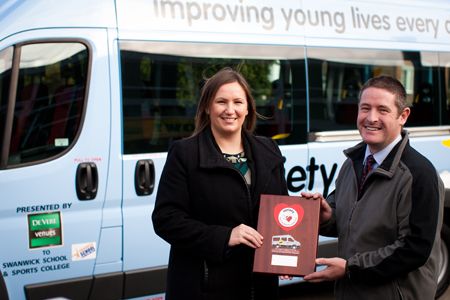 Swanwick School and Sports College, near Alfreton, Derbyshire, was presented with a Variety Sunshine Coach on 9th November. The presentation was made by Anna Wadcock, General Manager of De Vere Wychwood Park.
The 17 seated coach will enable the children and young people aged 5 – 16 years to embark upon a number of educational and recreational pursuits, access county and national sporting events and for residential visits.
This Variety Sunshine Coach has been generously funded by De Vere Venues and is the fifteenth sunshine coach to be funded by De Vere Venues in the past three years and brings the total number of coaches donated by the De Vere Group to forty.
Julie Ashford, PA to the Chief Executive Officer for De Vere Venues, commented:
"We are extremely pleased and proud to be presenting this sunshine coach to Swanwick School & Sports College and know it will provide many years of enjoyment for the pupils and wider school community. De Vere Venues staff, suppliers and customers have been fundraising for Variety, the Children's Charity, for the past three years and it is very rewarding to see first hand the impact that our fundraising efforts have on the children who benefit from Variety's support".
Chris Greenhough, Headteacher at Swanwick School and Sports College commented:
"We are extremely grateful to Variety and De Vere Venues for the donation of our Sunshine Coach. Having this coach to take our children on trips and outings will open up a new avenue of experiences for our pupils and enable the school to take part in a greater number of sporting activities in the community and at regional level."