20th September 2018
Supporting Variety Scotland
Scotland
Fundraising
Sporting challenges
Press releases
Wheelchairs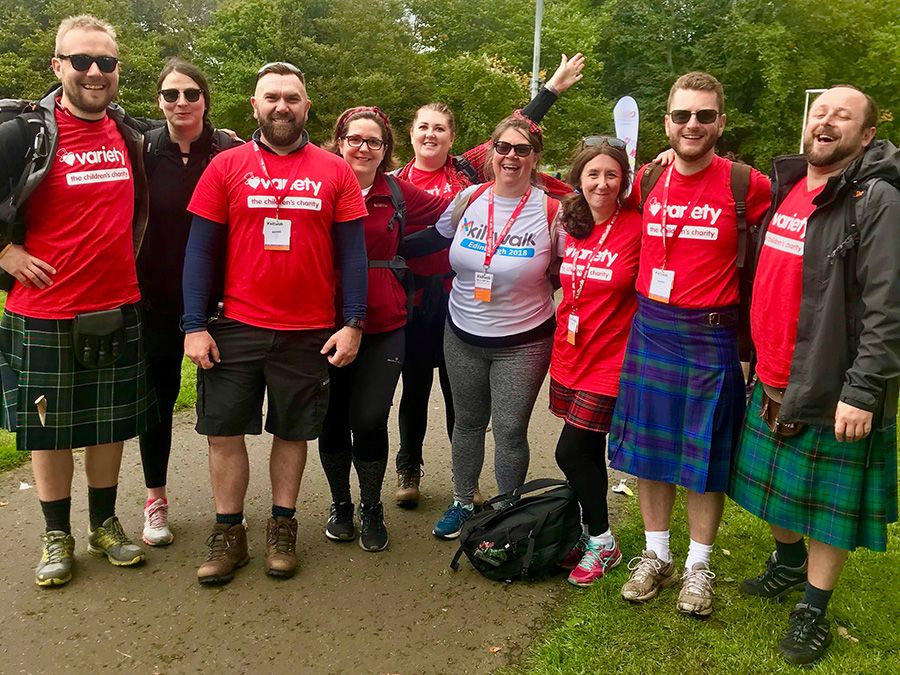 In 2014 the Scottish Government recorded 7% of those under 16 as having a limiting long-term physical or mental health condition. Not including those with a learning disability that's around 70,000 children and young people.
The Disability Price Tag report published by Scope in February 2018 calculates that monthly expenditure is, on average, £570 more per month for someone living with a disability. This takes into account the need for specialised goods, such as wheelchairs and other adaptive equipment, non-specialised goods such as heating to alleviate pain or additional power needs and higher premiums for accessible transport costs or accommodation.
Of all the areas in the UK, Scotland tops the rankings with families facing an extra price tag of £632 where someone in their household has a disability. Tens of thousands of families have to pay more for goods and services if they want to ensure the same quality of life for their children as elsewhere in the UK.
Compare this to the fact that, while the majority of employment in Scotland is full time, the country saw the lowest increase in full – time earnings anywhere in the UK between 2015 and 2016 (the latest available figures) meaning that a families' take home has to stretch just that little bit further.
That's why Variety, the Children's Charity, has given away £250,000 of Sunshine Coaches, wheelchairs and other forms of assistive equipment to families, schools and community groups since the start of 2017. We've also given over 1500 children and young people a Great Day Out. Everything we do is designed to help ensure that children and young people, regardless of ability or disability are able to enjoy the same levels of independence, care, social interaction and success.
That's why last Sunday I took part in the 24 mile Edinburgh Kiltwalk. Together with a group of Variety volunteers and supporters from the Royal Bank of Scotland we've raise over £3000 to go towards providing vital equipment for young people like Logan.
Logan has Duchenne Muscular Dystrophy and uses a powered wheelchair to ensure he can move around independently. As a result of his low muscle strength he needs help with writing and undertaking routine tasks. Logan has always loved football though and earlier this year, Variety provided him with a new Strike Force Football wheelchair, enabling him to try-out for the Scottish PowerChair Football National Squad. Thanks to the chair and its bespoke configuration of restraints, body support, head rest and controls Logan was able to overcome his limited range of movement and weak muscle tone enough to achieve a higher classification of performance than he had expected or previously been able to achieve.
Logan's success is down to his determination and hard work. But the chair which would see him perform on a level playing field was costly and, for many families remains prohibitive. That's why joining with 5000 other walkers on a blustery and wet autumnal Sunday was important.
Taking part wasn't just about raising vital funds to help other young people like Logan though. We pushed on pounding the tarmac through 48,000 steps, ignoring the pain, the cramps and the fatigue so that young people like Logan can have the chance to push themselves to limits far greater, without disability or financial disadvantage holding them back.