12th September 2013
Sunshine Coach Presentation At The Sandbanks Polo 2013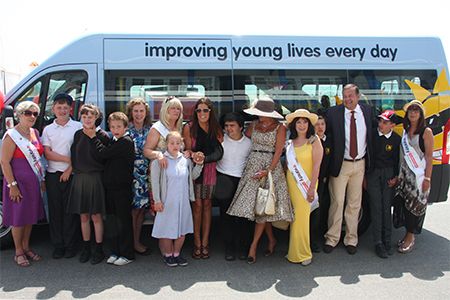 4Com proudly presented the second Variety Sunshine Coach at the prestigious British Beach Polo Championships on Sandbanks promenade on Friday, 12th July 2013.
Chairman & MD Daron Hutt said:
"We are delighted to deliver a second Sunshine Coach for use by Variety, the Children's Charity. The work that Frances and Variety, the Children's Charity, Wessex do is selfless, chivalrous and enriches the lives of so many local children. We are proud that 4Com are able to donate a second coach, and will continue to support Variety, the Children's Charity, Wessex"
Since the programme started more than 50 years ago, Variety Sunshine Coaches have become a symbol for what children and young people can achieve when they are given the opportunity to explore the wider world.
For the organisations and groups who work with children and young people who are sick, disabled or disadvantaged, the coaches provide much easier access to a whole range of activities and have allowed generations to explore, feed their minds and fire their imaginations.
Each coach represents a team fundraising effort between the school, group or organisation, Variety, the Children's Charity, and our corporate and individual sponsors.
Frances Cornelius, Chairperson, Variety Wessex region said:
"On behalf of the Variety Wessex Committee; we are completely 'blown away' by the amount of support we have received from 4Com staff over the last two years. It's completely amazing both for the committee (who are all unpaid volunteers) and for the children and schools whom we support. We also feel very honoured that 4Com choose Variety as the Charity they wish to support."