12th June 2019
Success at Stoke Mandeville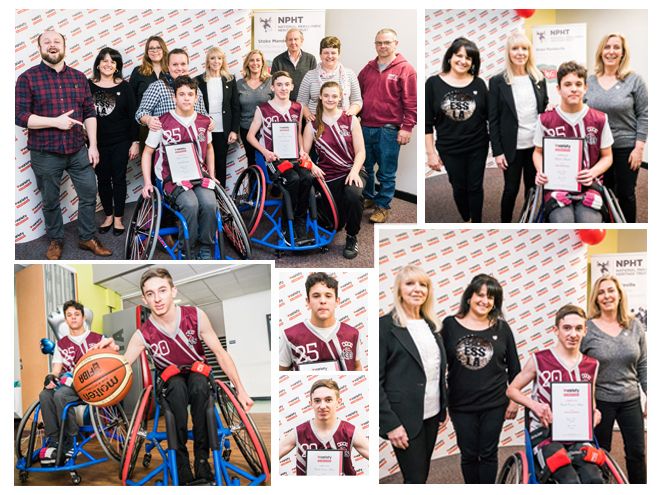 Variety is delighted to announce the appointment of two new Young Ambassadors, both recent recipients of new sports wheelchairs from the charity.
Charlie Adams & Yassine Ibesaine both received new basketball wheelchairs to help them move onto the next step in their progression through the ranks of their chosen sport. Yassine received his Per4Max Thunder back in May 2018 while Charlie received his Elite basketball wheelchair in January of this year. Both are active players for Ace Wheelchair Club's Junior Team which started back in 2007 and has prepared many wheelchair basketball players to go on to represent their country at the Paralympics.
Charlie has been playing for the Aces for 6 years and is most proud of winning Gold in 2017 for the South East Region in the British Junior Team Championships. A passionate player, for Charlie wheelchair basketball is fun and enables him to socialise while also providing a sense of achievement and focus. Charlie was recently selected to play for GB selection camp under 21s which recognizes his potential to continue on the right track to the Paralympics.
Yassine loves wheelchair basketball so much that he describes it as his biggest passion. He is most proud of scoring against Northern Ireland and his dream is to become a professional wheelchair basketball player, representing GB at the Paralympics in the future.
Charlie & Yassine's wheechair were donated by Variety thanks to the generous support of "the PROP's", real estate's premier fundraising event. Since its inception in 1992, "the PROPS", dedicated to the UK's property industry, has raised over £10 million enabling Variety to provide more than 2000 custom built wheelchairs and other essential items to children and young people all around the UK.
In recognition of their sporting achievements, Variety chose to make them Young Ambassadors and organised a presentation celebration lunch at the historic Stoke Mandeville Stadium, where their team plays. Joanne Cohen, Chair of Variety's Wheelchair Committee, commented: "Charlie and Yassime are such inspirational young men and it seems appropriate to recognise their abilities at such a significant place where Ludwig Guttmann started to inspire sport for all."
Guests at the presentation included Charlie and Yassine's friends and family, their coach and team mates as well as members of Variety's Wheelchair Committee including Joanne Cohen, Rachel Kellinger, Pamela Sinclair and Laurence Green, as well as representatives of Variety's staff.
More information on how to apply for a wheelchair grant from Variety