1st October 2015
Six x Six = More Than 36 Happy Children!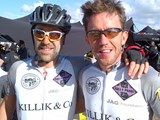 Intrepid Jer O'Mahony and Dan Dowding from Killik & Co, Advisory Stockbrokers, www.killik.com are about to undertake their most challenging event, on behalf of Variety, the Children's Charity – six Marathons in six days, in the Atacama Desert in Chile!!!
They will be entirely self supporting in this incredibly challenging run across the Atacama desert starting on Sunday 4th October – one of the toughest multi-stage marathons in the world. The event starts at almost 11,000 feet and covers over 250km in what is recognised as the driest place on the planet!
For 6 days they will be carrying all their own food, equipment and medical supplies and sleep on the desert floor. This is not an event for the faint hearted! So why are they doing it?
As the Meerkat phrase says (and has Jer and Dan confirm),'Simples – it's for a great cause – Variety, the Children's charity. They are aiming to raise in excess of £20,000 to purchase a Sunshine Coach for children with special needs. Throughout the event and particularly as it reaches its culmination, they will be motivated by the thought that the money they raise will fund a coach which will enhance the lives of the children immeasurably, giving them the chance to enjoy sporting, cultural and educational activities.
As Jer says:
"Whatever the challenge Dan and I will face over six day, it doesn't compare to the everyday challenges these children and their families face".
No strangers to crazy sports events, Jer and Dan completed the Marathon des Sables in 2012, The Comrades Ultra Marathon and numerous other extreme running, triathlon, road biking and mounting biking adventures. And in 2013 through Jer's wonderful efforts and those of his colleagues from Killik, a Sunshine Coach was purchased for Mapledown School in North West London and in 2014 a similar coach for Woodlands Special Needs School in Gillingham, Kent.
Steve Carroll, Mapledown School Head Teacher, commented:
"Having our own coach allows the children not only to experience activities which were previously inaccessible, but also to develop their confidence in travel. Our sincere gratitude goes out to the staff at Killik & Co and Variety, the Children's Charity, for the donation of this specialised vehicle, as it means a great deal to the teachers and children of Mapledown School. Thank you!"
Jer and Dan are covering all their travel and entry costs for this remarkable challenge, ensuring 100% of the funds go to Variety.
You can help them achieve their personal commitment to fund three Variety Sunshine coaches over 3 years by making a donation at https://www.justgiving.com/250km because together we can make a difference!