3rd December 2012
Santa Arrives At Canary Wharf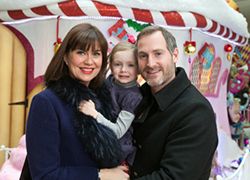 On Saturday 1st December, Variety ambassador and presenter Amanda Lamb and three year old daughter Willow were on hand to assist Santa and his little helpers kick off the season's festivities at Canary Wharf.
This Christmas, Santa's Grotto returns to Canary Wharf's Jubilee Place with a new whimsical and magical theme, a quirky one-off creation by Skye Stevenson at The Whimsical Cake Company.
Decked in candy canes, cupcakes, gingerbread men and towering piles of presents, this year's Santa's Grotto comes with all the festive trimmings.
Open every weekend in the run-up to Christmas and from Monday 17th to Monday 24th December, excited children can meet Santa in his Grotto and whisper their wish list for the big day.
All proceeds from the Grotto this year will go towards Variety, the children's charity.
Colleen Ettridge of Variety commented:
"We are thrilled to be working with Canary Wharf on such a magical project – my thanks especially go to Camille Waxer of Canary Wharf whose idea the Grotto originally was. Camille spotted one of Skye Stevenson's spectacular cakes in Vogue – she liked it so much she asked Skye to design their Grotto ! Canary Wharf is a wonderful day out for families and it's fitting that proceeds from the Grotto this year will go towards supporting children in the local area."