8th October 2013
Rugby Legends Hit The Green In Support Of Variety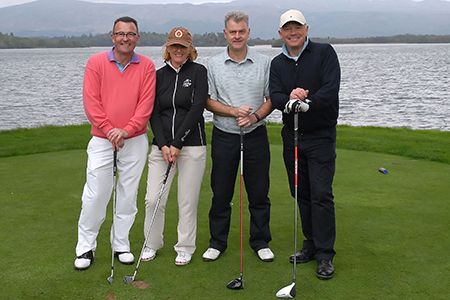 Some of rugby's greatest names came together in Scotland this weekend to play at Variety's Invitational golf tournament incorporating Rugby Legends in support of Variety, the Children's Charity. The Rugby Legend's round of golf at one of the world's elite courses soon turned every bit as competitive as their old battles on the muddy pitches of Twickenham or Murrayfield, with the team led by former Scottish fly-half John Rutherford emerging victorious.
Those taking part included Lions Captain Gavin Hastings; New Zealand great Sean Fitzpatrick; and the legendary Welsh scrum-half Gareth Edwards, as well as Ieuan Evans; Sean Fitzpatrick; Phil Vickery; and England's most capped international Jason Leonard.
Renowned commentator Ian Robertson, who compéred the event, said:
'What a fantastic day's play from a star-studded line-up of genuine sporting icons. These greats replicated the heroism they showed so often in their careers to help raise money for a very worthy cause. It was a lot of fun, but that's not to say it wasn't competitive out there. It looks like John Rutherford might have chosen the wrong sport after all!'
Rutherford's team led the field with an impressive score of 82 points BIH, though Jim Calder and Tom Shanklin also proved handy with a putter, captaining their teams to scores of 82 points BIH and 81 points respectively. Michael Lynagh provided the day's great moment with the longest drive from the 6th hole.
Variety Chief Barker Laurence Davis commented:
"Today's event continues the Variety tradition of working with the biggest names in support of the most worthy of causes. The money raised from this wonderful event will help create equally special days for the children that we work with, and we're grateful for the support of all involved."
The tournament helped raise vital funds for Variety, the Children's Charity, as it continues to help support sick, disabled, and disadvantaged children and young adults throughout the UK.
Thanks to the Rugby Legends that participated:
Finlay Calder
Jim Calder
Craig Chalmers
Gareth Edwards
Ieuan Evans
Sean Fitzpatrick
Will Greenwood
Gavin Hastings
Jason Leonard
Michael Lynagh
Murdo McLeod
Dewi Morris
Andy Nicol
John Rutherford
Tom Shanklin
Derek Stark
Phil Vickery
Doddie Weir
Ian Robertson – Compere/Commentator