28th May 2012
Roll Up, Roll Up, To The Variety Big Top!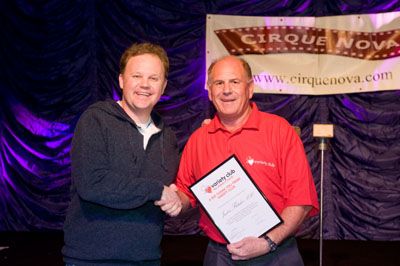 Thanks to the London Big Top and Tulip Ltd, Variety, the Children's Charity, entertained 600 children plus their teachers and carers, for a fun-filled afternoon on Friday 25th November!
Variety, the Children's Charity, originally started thanks to the support of a group of men in showbusiness who put on a fundraiser in a circus tent to support an abandoned child, so it was wonderful to go back to our roots and host this special event.
The afternoon featured a host of entertainers and performers who filled the huge, twinkling circus tent with laughter and smiles as everyone enjoyed hours of entertainment. The London Big Top was very generously offered as the venue by Diane and Denis McCourt, whom we were absolutely delighted to work with.
Starting the fun from the moment the audience stepped inside the magical tent, clowns welcomed the children and adults, alongside a towering stilt artist who gave some very high fives! The clowns also brought their two comedy cars along for the day, featuring cymbals and water shooting horns.
Once inside, the schools and youth groups were greeted by face painters, balloon artists, a circus skills workshop, a magician, more clowns and a firm favourite and one of our friends, Honey Monster, who was in high demand for giant hugs and plenty of photos!
TV presenter, 2010 Dancing on Ice runner-up and great friend of Variety, Laura Hamilton warmed up the crowd before introducing the first of our performers; stars of this year's Britain's Got Talent, Pip and Buddy. Pip was looking suitably sparkly in a glam ballgown and the children loved meeting the waggy star, Buddy, who was in fine voice on the pair's rendition of 'Pie Jesu'!
Following on from the beautiful singing we welcomed CBeebie's very own, Justin Fletcher MBE, otherwise known as Mr Tumble. We were thrilled to have Justin join us for the afternoon and he did a fantastic job of getting everyone dancing and singing. We were also delighted to present Justin with a special acknowledgement as a 'VarietyAmbassador' – welcome to Variety, Justin!
Next up were the special circus group, Cirque Nova, who performed a fantastic routine featuring aerial acrobats, juggling and strong man skills. The group are made up of children and young adults who all have some form of disability, so it was a perfect opportunity to show all of the attendees just how much potential we all have, regardless of any differences.
Cirque Nova show off their impressive circus skills The afternoon culminated in a disco, with the teachers and carers joining the children on the dance floor, and then finding it difficult to tear the excited, happy children away to return to their normal school day!
Steve Murrells, CEO of Tulip Ltd, said:
"We at Tulip are delighted that money we've raised throughout the year from our extensive fundraising activities has provided 600 children with a day that they will undoubtedly remember for the rest of their lives."

"We're also proud to know that our fundraising is making a significant difference to the lives of the families who rely on Variety, the Children's Charity, to make their lives more manageable."

"Our involvement with Variety has proved to be highly rewarding – both financially, as well as in the emotional sense."
Thank you to everyone involved in the special afternoon – from the teachers, carers, Variety staff and volunteers, to the performers and all those who gave their time and effort to put the event together; it was a fantastic occasion and we are pleased to say we have already been invited back for next year!
The biggest thanks of all must go to our supporters, Tulip Ltd, who funded the afternoon and provided 600 children with a special memory that they will talk about and treasure for a very long time. We would not have been able to offer this unique experience without your support and generosity.