6th June 2019
psd announces Charity Partnership with Variety, the Children's Charity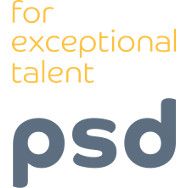 psd is pleased to announce its new charity partner Variety, the Children's Charity, for its London branch. We will support Variety's mission to improve the lives of children and young people across the UK who are disadvantaged by disability, poor health or poverty.
Staff from the psd London office will be organising a number of fundraising and awareness raising activities to help support the charity in its core. psd has raised over £18,000 in the last two years towards our chosen charities, and has twice been awarded the Payroll Giving Platinum Award by the Charities Aid Foundation. psd match what the staff donate through the payroll giving scheme, plus offer each member of staff one extra day of paid leave per year to carry out volunteer work.
We look forward to partnering with Variety and working to make a difference in the lives of disadvantaged children and their families, helping them to reach their potential and make the most of their childhood.
Danielle Roche, Corporate Partnerships Manager at Variety: "We are absolutely delighted to welcome psd London into Variety's supporter family. psd is fantastic company with a track record of success and putting people first. As organisations, we work in different sectors, but we share some very important values, particularly Accessibility, Commitment, and Adaptability. We look forward to a long and happy relationship, a relationship focussed on improving the lives of children and young people throughout the UK who are disadvantaged by disability, poor health or poverty."
Stefan Ciecierski, psd CEO added: "The charities psd support are chosen by employees, and we are proud to be partnering with an organisation that has such passion for improving the lives of children and giving them the best start to life possible."

At psd, we identify and recruit exceptional talent on behalf of our clients – and to help our candidates achieve the very best in their careers. We work across more industries, in more countries, at more levels, and in more ways to help you succeed. To really deliver on each client's aspirations, we understand how important it is to get under the skin of their organisation; its mission and purpose, culture and challenges.
psd's focus on executive, management and board-level appointments means we offer real expertise in these areas. With nearly 30 years of experience to draw on, both clients and candidates benefit from the highest levels of reassurance throughout the search and recruitment process. Our client roster ranges from local start-ups to global corporations, and with five offices globally, psd's international capability is designed for the globalised economy.
psd has been accredited with the Investor in People Standard since 1996, and recognised with the prestigious Gold Award since 2014. We are proud to have been re-awarded the Investors in People Gold Status again in 2017. We were commended for "exceptionally high levels of employee engagement", "hiring and retaining high quality people", and applauded for "exhibiting a level of transparency rarely seen in commercial organisations."