29th May 2012
Pronto, Partenza, Via For Variety And The Italian Job 2012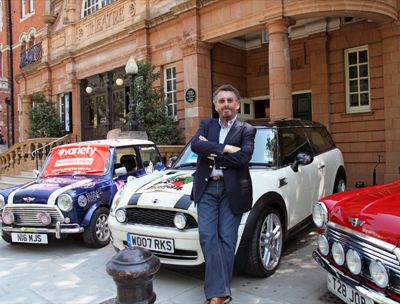 Variety, the Children's Charity, today announced its partnership with The Italian Job 2012 with a photo shoot starring long term Variety supporter and star of the iconic film, Robert Powell.
Launched in 1990, The Italian Job is a fundraising driving adventure across Italy featuring a fleet of Minis as well as other classic cars from the original film, with the aim of raising awareness and money for charity.

The 2012 edition begins in Rome on 25th October 2012 and finishes in Turin on 2nd November 2012. Registration is now open and you can join in with the event by clicking here.
The photo shoot took place outside of the Richmond Theatre as Robert was starring in the classic British comedy, 'Doctor in the House' until May 26th. A selection of the Italian Job minis were welcomed to the theatre to officially launch the 2012 fundraising event with a photo shoot alongside Robert and members of the team.
Variety Ambassador, Robert Powell, who played Yellow in his first film role in the original 1969 version of the classic film, said of the event:
"It's great to be involved in an event which not only celebrates a classic British film, especially a film which means so much to me personally, but also raises money for children throughout the UK. I have been a supporter of Variety for many years so I was honoured when they asked me to be involved."
Keith Andrews, Variety's Chief Barker said:
"We are always looking for different ways to raise money for the children we support and this is a perfect example of fundraising which is both fun for those involved and benefits so many children."

"We at Variety hope that as many people as possible register and participate in the event which will also create memories not only for themselves but also help us create lasting memories for the children we work with in the UK".
Frederick St George, Organiser, The Italian Job added:
"People who take part and have taken part over the last 21 years are guaranteed the trip of a lifetime and the chance to help build a happier future for disadvantaged children and young people in the UK."
To find out more about the Italian Job, please visit their website www.italianjob.com