17th December 2019
Pride of Britain winner Dante appeals for donations to help children this Christmas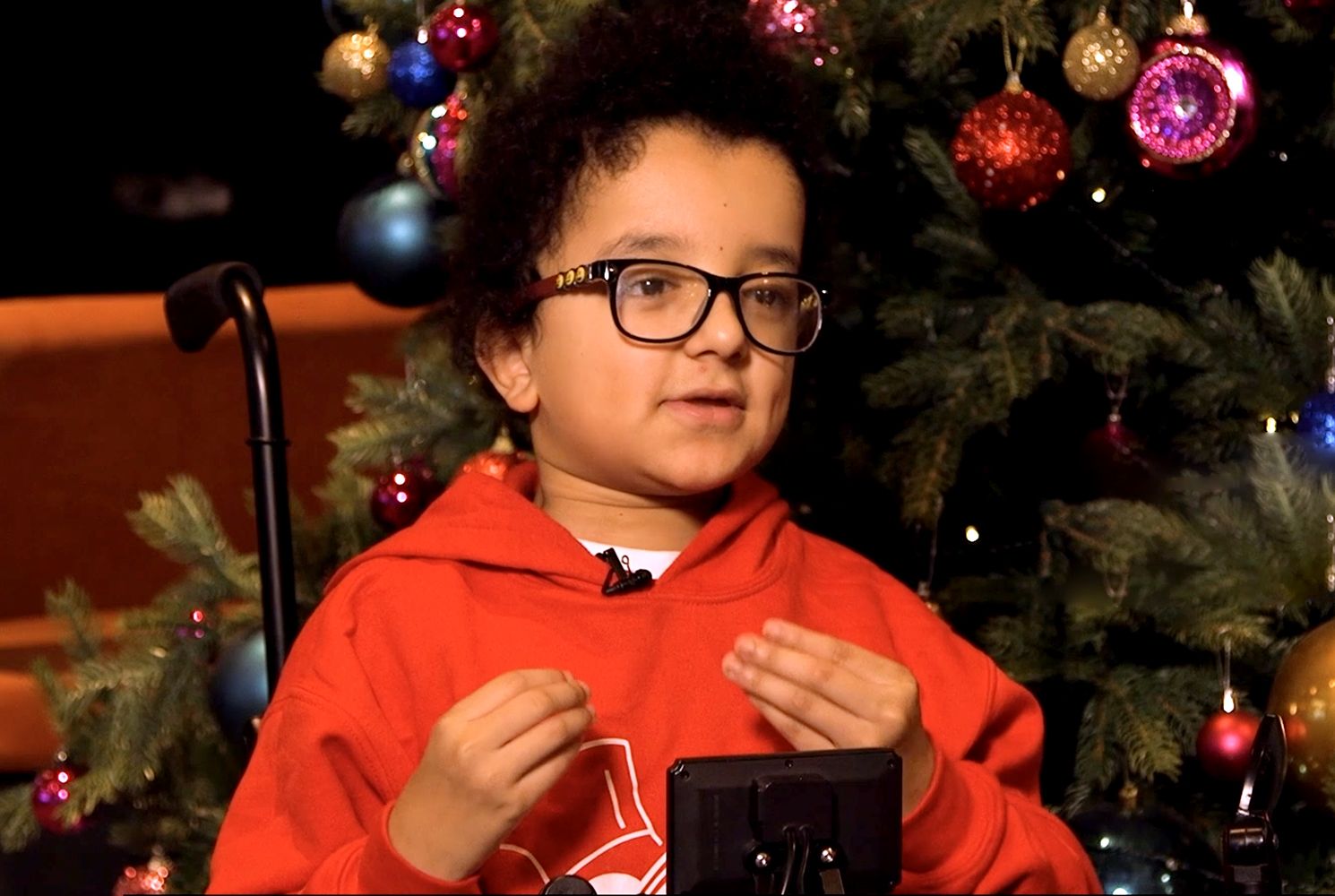 Pride of Britain 2019 winner Dante is the star of a moving Variety Christmas campaign video, launched today, which aims to raise awareness of the urgent need for the public's support.
In the video Dante, who was born with brittle bone disease and scoliosis, encourages viewers to donate to help other children receive the same level of support that he has. Filmed at one of Variety's Great Day Out Christmas parties, which are held so that disabled and disadvantaged children don't miss out on festive fun, the video highlights that a Variety Great Days Out Christmas present will be the only gift some of the children receive this year.
Dante said: "Christmas isn't really about getting presents it's about giving. I've had the best year ever and Variety has been a huge part of this incredible year. But there are so many more children in Britain who need the same help as I do, and for Variety to do that they need support from the public. Please click that donate button now, however much or however little you can give will help change the lives of more children this Christmas."
Dante's Mum Rachel added: "It doesn't matter what background they're from or what disability they have, all children should be able to enjoy Christmas equally. Variety's mission is to get every child, whether they have a disability or are from a disadvantaged area, the equipment and support that they need to make their lives easier and more comfortable."
Thanks to the right support and equipment provided by Variety, Dante, who has suffered 92 broken bones, lives his life to the fullest. His motto is: "There are no disabilities only abilities."
Last month, the 11-year-old Dante won the Child of Courage award at the star-studded Pride of Britain ceremony. Viewers saw him collect his trophy from TV judge and dancer Ashley Banjo, for helping to raise £30,000 for a Variety Sunshine Coach and for visiting other seriously ill and disabled children in hospital. Variety provided him with a bespoke wheelchair that has transformed his life and he became a Young Ambassador in 2018. He works tirelessly to find other children who can benefit from Variety's support.
Sadly, not all children with mobility issues have access to the same vital assistance, which is why the work that Variety does is so important to be able to help more children like Dante.
A staggering 4.5 million children now live below the poverty line in the UK, while food bank use in the country has surged by 23 per cent in the last year. Families with disabled children are among the hardest hit, as raising a disabled child can cost an extra £600 a month.
Variety, which this year celebrates its 70th anniversary, exists to help reduce the impact of poverty on disabled children. During that time it has helped over one million children. It does this by providing much needed equipment which helps to provide the same quality of life as for non-disabled children, but with disability and poverty on the rise, demand for our services is increasing and we are calling on the public for more help.
Recent figures show that there are now around 1.3 million disabled children and young adults in the UK, around 8% of under 18's. Donations are desperately needed to help Variety change the lives of more children like Dante this Christmas.
During the heart-warming Christmas campaign video, Dante joined 200 children in Solihull for a few hours of festive fun. The Liverpool schoolboy led some festive carol singing with a rendition of Jingle Bells before a surprise visit from Father Christmas, who ensured that every child received a gift, brought joy to the children's faces.
Speaking afterwards Dante said: "I know what it's like to be sick or in hospital over Christmas. I once broke both legs on Christmas Day. So I was really happy to attend Variety's Great Day Out Christmas Party and do my bit to help spread some Christmas joy and cheer."
Jo Carter, CEO of Variety, added: "We are immensely proud to have Dante as Variety Young Ambassador, he really is an inspiration to us all and strives to spread joy wherever he goes. In order to help more children like Dante, funding is crucial. The important work that we do is only set to increase int 2020 so any support for Variety is truly invaluable for the young lives that we support."
Charlotte Walker, Variety's Regional Development Director said, 'We believe that all children deserve to have a wonderful Christmas regardless of disability or disadvantage, which is why we hold our Christmas parties every year. Receiving gifts at Christmas for many is expected however for most of the children who attend our parties this simply isn't the case. Many of the children would go without if it wasn't for the gift provided by Variety. This makes our parties all the more important.'
Thanks to sponsorship and hundreds of toys being donated by local businesses, each party come at no cost to the children, their families or their carers.
This year's parties were kindly supported by The Big Lottery (Awards for All), Pertemps Recruitment, Mondelez International, Lloyds Banking, Lamborghini Birmingham, Hays Recruitment and Village Hotel, Solihull.
The work that Variety do for children across the UK is vital, but in order to help more children like Dante, Variety needs to raise more money. To help a child #BeMoreDante this Christmas go to www.variety.org.uk and donate.