11th October 2018
Paula Radcliffe MBE Appointed as Variety Catherine Awards 2018 Judge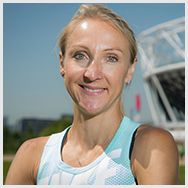 Variety, the Children's Charity is delighted to introduce Paula Radcliffe MBE as a judge for the Catherine Awards 2018.
After graduating from Loughborough University with a first-class degree in modern languages in 1996, Paula fully devoted herself to running and is now recognised as one of the finest athletes of modern era.
She is a three-time winner of the London Marathon (2002, 2003, 2005), three-time New York Marathon champion (2004, 2007, 2008), and 2002 Chicago Marathon winner.
She has held the Women's World Record time of 2:15:25 for the marathon since 2003. Paula was awarded an MBE in 2002.
The Variety Catherine Awards celebrates the role of women in business, while raising awareness and funds for disabled and disadvantaged children throughout the UK. This very special initiative honours and shines a light on inspirational women who have made a difference in their professional lives and importantly in the lives of others.
The awards will take place on 13th November at the London Marriott Hotel.
Paula Radcliffe MBE said:
'I have seen first-hand as an athlete the impact you can have as a role model to inspire others – the same is true in business, and that is why I am so pleased to be involved in judging these Awards.'
For more information about the Variety Catherine Awards 2018, please click here or contact catherineawards@variety.org.uk