18th December 2017
Orchard Brae School in Aberdeen Receives Sunshine Coach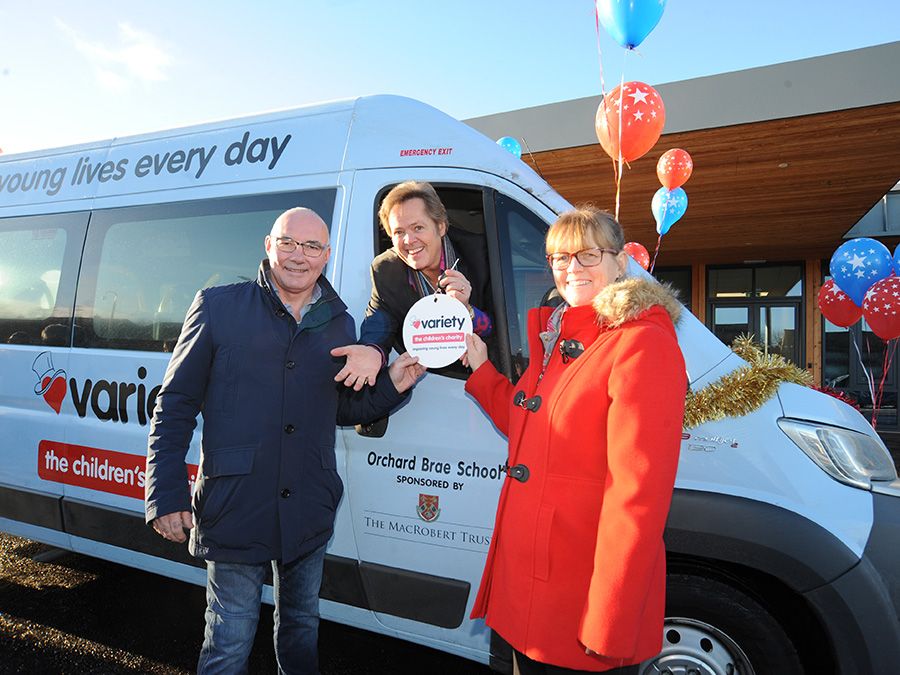 Jimmy Osmond, the youngest member of the world-renowned Osmond family and star of local Aberdeen Christmas pantomime, has today presented one of Variety's Sunshine Coaches to the children of Orchard Brae School. Osmond was joined by fellow Aladdin cast members Alan McHugh and Jordan Young and former Aberdeen football legend, Willie Miller.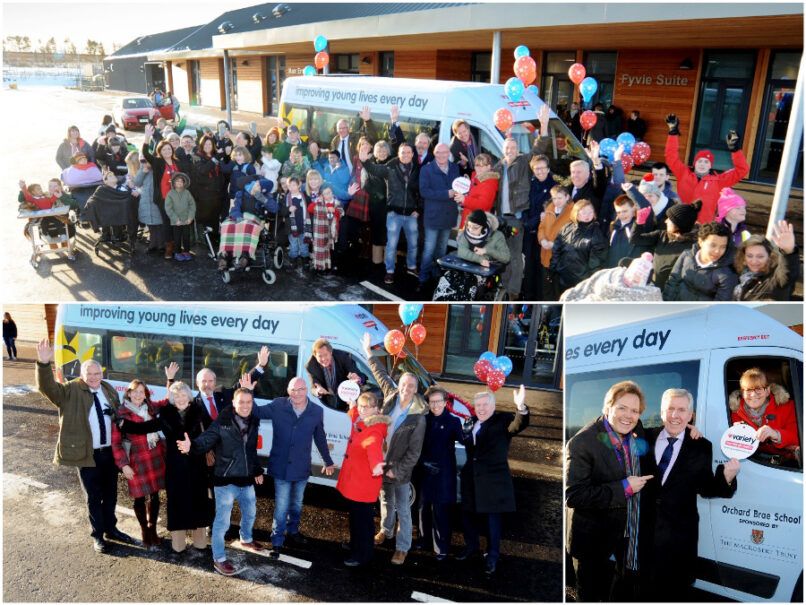 Orchard Brae School is a specialist school providing support for up to 150 children who have severe, complex educational and medical needs. The school, which opened in August, is the first of its kind in Scotland and boasts state-of-the-art facilities including: a swimming pool, hydrotherapy pool, soft play and sensory rooms along with specialist art and home economics areas.
The Sunshine Coach, the first to be donated by the MacRobert Trust, is a vital addition to the school and will enable the children to access their local community and take part in a number of activities such as trips to their local swimming pool, adventure play park and library.
The Trustees of MacRobert Trust said:
"The MacRobert Trust are delighted to be supporting the purchase of a Variety Sunshine coach for the Orchard Brae School in Aberdeen. We have watched with interest the opening of the new school and appreciate the difference having their own transportation will make to the 150 pupils, opening up the classroom to give them many new opportunities and experiences, especially allowing them to be part of the local community."
Caroline Stirton, Executive Head Teacher at Orchard Brae School said:
"Historically we have had a strong and supportive link with Variety, the Children's Charity who has generously supported the former establishments that came together as Orchard Brae School. This is a great early Christmas present. We do a very wide range of community based learning with our pupils from 3-18 years and without these buses we would not be able to facilitate this. We are immensely grateful to the McRobert Trust and Variety, the Children's Charity for their invaluable support."
Variety's Scottish Committee Member, Tom Porteus, said:
"We are delighted that the children of Orchard Brae School have today received their new Sunshine Coach, thanks to the generosity of the MacRobert Trust. It has also been wonderful to meet our special guests and we are very grateful to them for joining us in celebrating the donation."