4th July 2014
ODEON Cinemas Slam Dunks Another Wheelchair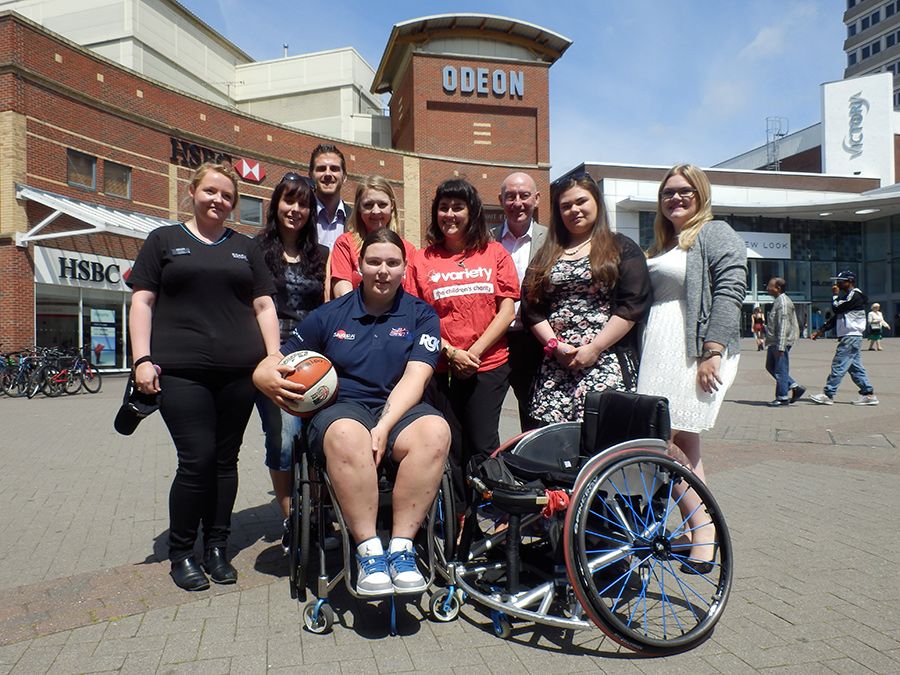 Variety supporter Odeon Cinemas, has been raising its game even higher recently, reaching a fabulous heights of fundraising through the commitment and enthusiasm of its staff.
Recently awarded the prestigious Variety International Corporate Supporter Award at the International Conference in Barbados in June, their charity teams all over the UK been speeding towards the targets they set themselves for 2014 and funding vitally needed equipment including Wheelchairs and Individual Appeals.
On 2nd July, some of the charity team from the Odeon Southend, presented Freya Levy with her brand new, sports wheelchair, customised to survive the rigours of Wheelchair basketball matches. Freya who has Muscular Dystrophy and Scoliosis, has recently been selected for the GB Under-25 Wheelchair Basketball team to face Germany in August and her new wheelchair chair has enabled her to improve her game and achieve her ambition of representing TeamGB at the Brazil Paralympics in 2016.
'Hoop Hoop Hooray to Odeon and the best of luck to Freya from all at Variety'
Some of ODEON Southend Charity team with Freya Levy
Photo: (L to R) Danielle Burks, Melanie Davis (Cinema Manager), Steve Humphreys (General Manager), Jennica Jorudd, Hannah Paterson, Mike Haszko (Variety), Gemma Shaw and Brooke Keepence. Other Odeon Southend Charity Team members are Stefanie Snell, Sophie Frost, Laura Ball