25th April 2012
Never Give Up And Smile – Team Variety At The 32nd London Marathon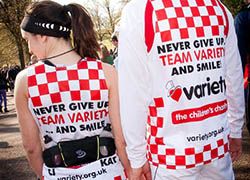 Running a marathon is special, emotional and makes you feel like you can take on the world.
Running a marathon hurts so others don't have to.
This is why over 36,000 crazy, determined and caring individuals (plus a few pantomime horses!) took part in the 32nd London Marathon. For some magical reason, the weather brightened up to provide hours of sunshine for the early bird runners and only drenched the remaining incredibly committed people who kept on going to ensure they can say, 'I completed the London Marathon.'
All ages, shapes and sizes make up a marathon cohort, but all have a common aim – to make a difference to the lives of others. It is the largest show of human compassion one will ever witness, so it's not just about those who double knot their laces and don the lycra.
For the supporters, it's also special, emotional and can make them feel like they can take on the world as they line the streets of our beautiful capital city that was practically shining from every angle on Sunday, showing just why it will put on the greatest show on the earth this summer and do it really well.
Team Variety had 28 runners taking part this year and we are so pleased to be able to say all completed the course, even one tremendous soul who had chicken pox! As a runner, your feet hurt, your knees hurt, your lungs hurt – you push yourself to the very limit and are buoyed along by the crowd who shout your name and applaud, even though they've never met you and probably never will. It doesn't matter; it's one day, one team, one aim.
At the time, you may have suffered a pulled muscle or bloody knees, and wanted it all to be over and vowed 'never again', but your memories will be pleasantly clouded by the thousands who spotted the printed or black marker penned name on your chest and made you feel like you were really a part of something to spur you on. You're perfectly justified to go back to work and keep telling everyone, 'I ran the marathon and it was one of the best days of my life.'
Team Variety also had three cheering points this year at miles 14, 22 and 25, filled with members of staff alongside their kind friends and family who were roped in to wear our berry red hoodies, and stood alongside our runners' family and friends.
As a spectator, there's also a certain amount of effort required – your hands can start to tingle from all of the clapping, your voice wanes as the hours pass but you continue bellowing names and words of encouragement as your knees wobble because standing in one spot starts to take its toll.
Spectators don't train for a marathon like the runners do, but as you suddenly catch sight of that red and white chequered vest in the distance amongst the multicoloured flood of running kit, you suddenly feel a renewed energy. Seeing one of your team makes you jump up and down like when a winning goal is scored in the final seconds of an important cup game; it's a build up of excitement, it's an outlet of pure elation. Your runners suddenly become celebrities and stars in their own right.
Our runners all posted fantastic times this year – some were aiming for a particular time, others just wanted to get from start to finish without too much suffering. All raised a wonderful amount of money through sponsorship because that's the other thing about a marathon – the training not only involves all of those long runs and trips to the gym, it also means holding bake sales or cooking lunches, any legal method to persuade others to part with their hard earned cash for a good cause. It's a year long effort to complete that course.
To go some way in soothing the pain and after all of their hard work, the very least we can do is thank our courageous runners and their hugely supportive friends and family, as the effort extends beyond the runners themselves. It's their friends and families who've had to put up with hours of 'marathon chat', moans about injuries and running in the cold, dark British months, cooking endless pasta dinners and allowing them to become fussy eaters to fit in with a strict 'running diet', all to make sure that these fantastic men and women could run for Variety, the Children's Charity.
Our way of saying 'thanks' is to hold a small 'recovery' party at the RAC Club on Pall Mall to offer lots of refreshments, a well-deserved massage, hot showers and comfy seats, so everyone can relax and bask in the warm glow of achievement.
We have to make an extra special point of congratulating our very own Community Fundraising Manager, Frankie Holah, who not only looked after our team of runners, but also completed the course herself in a magnificent 3 hours 57 minutes!
Our runners completed those 26.2 miles and all had smiles on their faces. Our runners made their family, friends and all of the Variety cheering point supporters smile. Our runners raised money to make sure hundreds of children and young people will also have smiles on their faces.
Thank you for all of your support – you are so important and we are very grateful you are a part of our team.
Is it too early to say, 'Are you ready for 2013…?'